Dear Cookie Elf reader,



Welcome back to The Cookie Elf File … and to easy cookie recipes! About once a week, The Elf sends you cookie recipes, cookie trivia and simple baking tips to give you easy ways to bake homemade cookies.
---
It's That Time of Year Again!
School's out (almost) for summer! Check out these 6 Classy Teacher Gift Ideas to find just the right card or gift to let that extra-special teacher know how much they are appreciated. Use this special link and then be sure to enter checkout code 25SAVE to save $25 on your $75 purchase at Dayspring.

---
The Cookie Elf is on Pinterest!
Join us on Pinterest! Browse our 80+ boards (and growing) for cookie inspiration and simple baking tips, like chocolate chip cookies, no bake cookies, cookie gift baskets -- even special treats like gluten-free cookies! Happy pinning!
---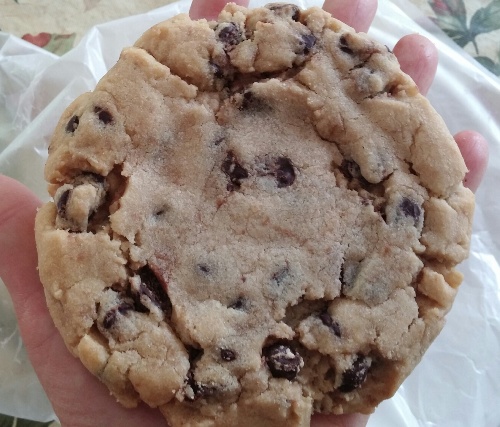 Image: The Cookie Elf
Yes, chocolate chip cookies are everybody's favorite … and what about these amazing Jumbo Chocolate Chip Cookies? They are perfect for all those picnics coming up this summer.
You make them to be the size of the palm of your hand, about 4 to 6 inches across. And no, it's best not to make jumbo cookies with a regular cookie recipe, simply dropping larger amounts of dough. Why? Because the cookie dough will likely spread too much. Jumbo cookie recipes are heavier and thicker to compensate. (Get more Baking Tips for Jumbo Cookies.)
Try this version. Be sure to bake a test cookie or two before baking the whole batch so you can adjust size and practice the best way to flatten dough.
Prep time: about 15 minutes
Baking time: 10-14 minutes
Makes about 2 dozen jumbo cookies
Get the full Jumbo Chocolate Chip Cookies recipe… and be sure to check out more Jumbo Cookies recipes and tips on our Pinterest board.
---
$5 Dinners: Save Time AND Money
Have you ever wished you could make enough dinners in less than 2 hours that will last a month … and then once a day, let dinner cook itself in the slow cooker while you go about your busy day? Check out these nifty meal plans from 5 Dollar Dinners
… and come home at 6 pm from a crazy day to dinner waiting for you in the slow cooker! Click here: 20 Freezer to Slow Cooker Meals
.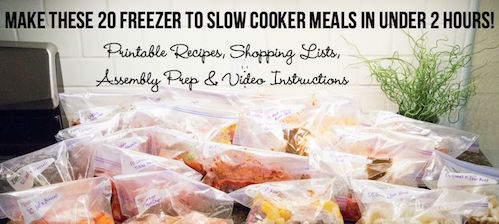 ---
Cookie Baking Tip: How Many Jumbo Cookies Per Baking Sheet?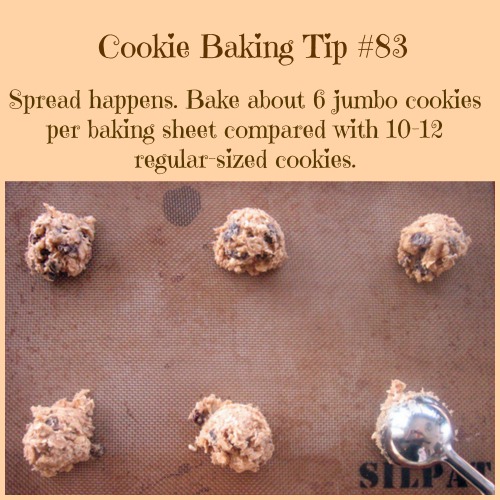 Image: The Cookie Elf

See more helpful cookie baking tips on The Elf's Baking Tips Pinterest Board .
---
Fun Gadgets for Baking Cookies (especially big ones!)
Have fun. Build memories!
More Easy Jumbo Cookie Recipes and Tips

That's it for now. See you next time!
Happy baking,
The Cookie Elf
www.cookie-elf.com