Dear Cookie Elf reader,



Welcome back to The Cookie Elf File … and to easy cookie recipes! About once a week, The Elf sends you cookie recipes, cookie trivia and simple baking tips to give you easy ways to bake homemade cookies.

Jump in to our 12 Days of Simple Christmas Cookie Recipes with Day 12 and a flavorful shortbread variation.
---
Have Fun During the Holiday Break with These Cookie Ideas at Craftsy
Check out all kinds of online classes, freebies, cookie patterns, cookie recipes at Craftsy. Have some fun and browse!

---
The Cookie Elf is on Pinterest!
Join us on Pinterest! Browse our 80+ boards (and growing) for cookie inspiration and simple baking tips, like chocolate chip cookies, no bake cookies, cookie gift baskets -- even special treats like gluten-free cookies! Happy pinning!
---
12 Days of Christmas Cookies
Feature, Day 12: Ginger Shortbread Cookies: Easy Ginger Bread Cookies Variation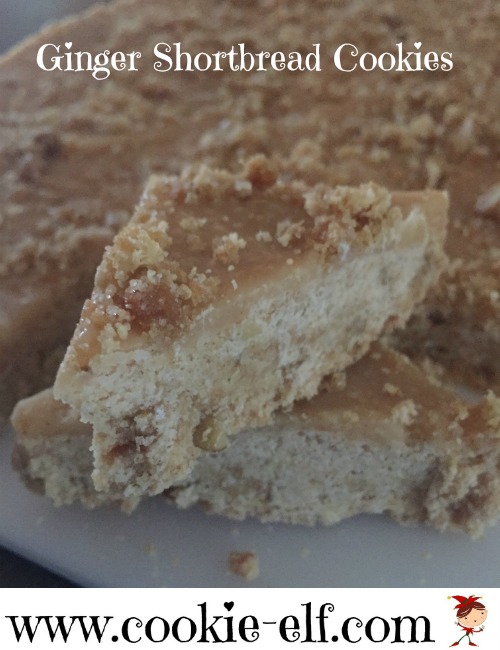 Image: The Cookie Elf
Ginger Shortbread Cookies is a terrific recipe if any of these are true 1. You love ginger 2. You don't have time to make ginger bread cookies because they take longer to roll, cut, and decorate 3. You like shortbread and want to try different kinds.
You can save money by making your own candied ginger. (Bonus! Grab the recipe here.)  And you can vary the intensity of the ginger flavor by eliminating the candied ginger on top.
Prep time: 10-15 minutes
Setting time: 18-20 minutes, divided
Makes about 5-6 dozen triangular slices


Get the full recipe for Ginger Shortbread Cookies: … and check out more Shortbread Recipes on our Pinterest board.
---
Cookie Baking Tip: Use Butter in Shortbread (NOT Margarine!)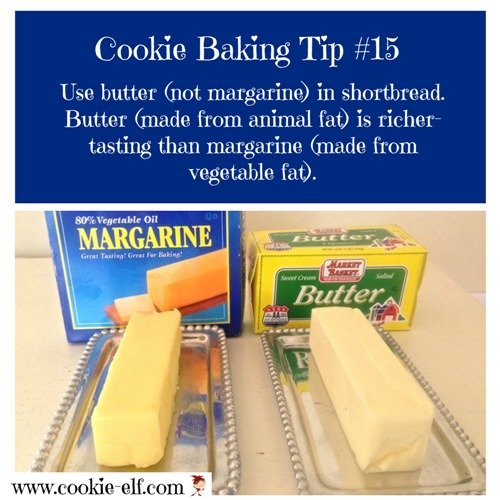 Image: The Cookie Elf
See more helpful cookie baking tips on The Elf's Baking Tips Pinterest Board .
---
Did Santa Forget? Get It Now
More Easy Shortbread Recipes

That's it for now. See you next time!
Happy baking,
Kathy, The Cookie Elf
www.cookie-elf.com