Dear Cookie Elf reader,



Welcome back to The Cookie Elf File … and to easy cookie recipes! About once a week, The Elf sends you cookie recipes, cookie trivia and simple baking tips to save you time, mess, and money so you can bake homemade cookies.

Almond Crunch Drop Cookies are an easy drop cookie recipe winner from the Pillsbury Bake-Off. Perfect for lunches and tailgating. Enjoy!
---
Never Grease a Cookie Sheet Again
Silicone mats: find out why they're so awesome for baking cookies! Take a look.

---
The Cookie Elf is on Pinterest
Join us on Pinterest! Browse our 80+ boards (and growing) for cookie inspiration and simple baking tips, like chocolate chip cookies, no bake cookies, cookie gift baskets -- even special treats like gluten-free cookies! Happy pinning!
---



Image: The Cookie Elf

Almond Crunch Drop Cookies are a unique cross between a molded cookie and a drop cookie. The dough is thick. That's why the recipe calls for you to mold cookies into a ball and then use fork tines, dipped in sugar, to flatten the cookies. This way the cookie will bake all the way through before the outside browns too much.

Yet these cookies are shaped much like a drop cookie. In fact, you can drop tablespoonfuls of dough onto the baking sheet and then flatten them, if you prefer (see Cookie Baking Tip below) – the shape may simply be not as perfectly round.

Almonds, almond flavoring, and toffee bits add up to a warm, buttery, nutty flavor. The cookies taste like individual toffee-flavored shortbreads. It's easy to see why these cookies were a favorite recipe from the iconic Pillsbury Bake-Off Contest #30 in 1982.

Prep time: about 15-30 minutes
Bake time: 12-16 minutes
Makes 4-5 dozen cookies

Get the full recipe for Almond Crunch Drop Cookies. And you can see other Pillsbury Bake-Off cookie recipes on our Pillsbury Bake-Off Cookie Winners Pinterest Board.
---
Quick, Convenient, Good, Low-Cost. In One.
At The Cookie Elf, we're all about home baking and home cooking – with less time and mess. So be sure to check out The Prepared Pantry. It's a family-owned business that sells baking mixes, kitchen tools, baking ingredients, and gourmet foods. Their mixes come straight to you from their own production and packing facility in Rigby, ID. I love that!

Best of all, their prices are really, really affordable.

Plus, The Prepared Pantry is believed to be the largest seller of bread mixes on the internet. You'll believe it when you browse more than 100 Bread Mixes from $2.00. While you're there, be sure to check out their Weekly Specials to save even more (I saw one mix discounted 83%.)
---
Cookie Baking Tip: Thick Drop Cookie Dough? No Problem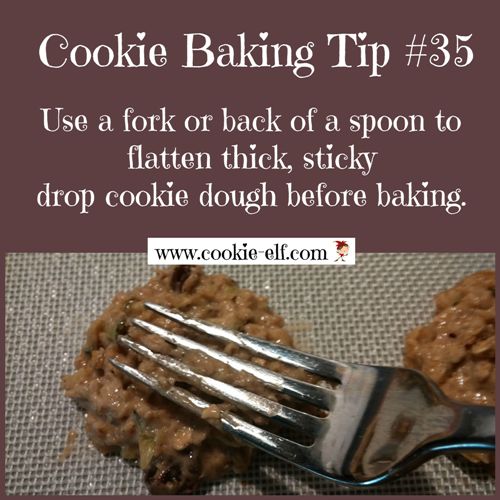 Image: The Cookie Elf
See more helpful cookie baking tips on The Elf's Baking Tips Pinterest Board .
---
Make Evenly-Sized Drop Cookies
More Easy Cookie Recipe Winners from the Pillsbury Bake-Off

That's it for now. See you next time!

Happy baking,

Kathy, The Cookie Elf
www.cookie-elf.com