Dear Cookie Elf reader,



Welcome back to The Cookie Elf File! About once a week, The Elf sends you an easy cookie recipe or simple baking tips for baking homemade cookies.
The Cookie Elf is on Pinterest!
Join us on Pinterest! Browse our 60+ boards (and growing) for cookie inspiration and simple baking tips, like chocolate chip cookies, no bake cookies, cookie gift baskets -- even special treats like gluten-free cookies! Happy pinning!
---
Feature: Just 4 Ingredients! Chocolate Chip-Peanut Butter Squares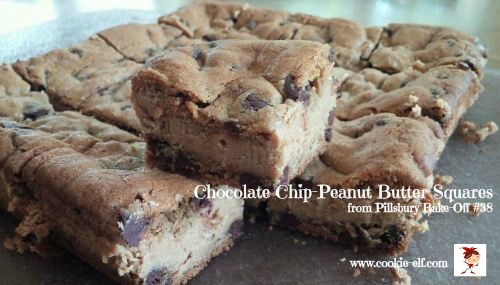 Image: The Cookie Elf

Just four ingredients? Yes! Chocolate Chip-Peanut Butter Squares are the ultimate easy cookie recipe. The bar cookies come together in less than ten minutes.


Don't let the base and topping from refrigerated cookie dough give you pause, since it's the layers give this bar cookie its intrigue. The inner filling is like a peanut butter truffle – a whipped, smooth filling that holds its form – sandwiched between two layers of classic chocolate chip cookie dough.

It's easy to see why these cookies were a favorite recipe from the iconic Pillsbury Bake-Off Contest #38 in 1998.

Prep time: <10 minutes
Bake time: 30-35 minutes
Makes about 16 bars


Get the full recipe for Chocolate Chip-Peanut Butter Squares – and be sure to check out other The Elf's Easy Cookie Recipes on The Elf's Pinterest board.
---
Cookie Baking Tip of the Week: Spreading Prepared Cookie Dough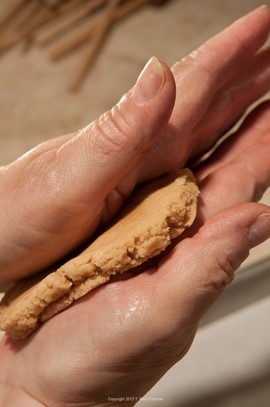 Image: T. Mike Fletcher
Spreading dough into the bottom of a pan is not difficult, since you can press against the pan's lower surface.
But certain cookie recipes call for you to spread prepared cookie dough over a filling. That's another matter. You want to make sure the filling does not ooze out and creep up over onto the top of the cookies, but rather the topping leaves a neat, tidy surface.
Use a couple of tricks to do so.
Flour your fingers … or moisten them, if the dough is particularly sticky.
If cookie dough is stiff or dry in texture, then crumble it into as many small pieces as possible and then sprinkle dough pieces over the cookie filling surface.
If cookie dough is thick in texture, then pinch off a teaspoon or two at a time. Flatten each chunk of dough and lay each one individually across the cookie filling surface so they are nearly touching each other.
Get more special cookie baking tips from The Elf to help your baking be easy and fun!
---
More Easy Cookie Recipes from The Elf

That's it for now. See you next time!
Happy baking,
The Cookie Elf
www.cookie-elf.com