Dear Cookie Elf reader,



Welcome back to The Cookie Elf File! About once a week, The Elf sends you an easy cookie recipe and simple baking tips for baking homemade cookies.
---
Save 50% on Simple Baking Mixes: Stock Up for Fall
At The Cookie Elf, we're all about home baking and home cooking – with less time and mess. So be sure to check out The Prepared Pantry. It's a family-owned business that sells baking mixes, kitchen tools, baking ingredients, and gourmet foods. Their mixes come straight to you from their own production and packing facility in Rigby, ID. I love that!
Best of all, their prices are really, really affordable.
Plus, The Prepared Pantry is the largest seller of bread mixes on the internet. You'll believe it when you browse more than 100 Bread Mixes from $2.00. While you're there, be sure to check out their Weekly Specials to save even more (I saw one mix discounted 83%.) Check out The Prepared Pantry and have fun browsing!
---
The Cookie Elf is on Pinterest
Join us on Pinterest! Browse our 80+ boards (and growing) for cookie inspiration and simple baking tips, like chocolate chip cookies, no bake cookies, cookie gift baskets -- even special treats like gluten-free cookies! Happy pinning!
---




Image: The Cookie Elf

Chocolate Oatmeal Drop Cookies are a combination of two popular cookie recipes, a favorite cookie flavor (chocolate chip cookies) with a favorite cookie texture (oatmeal cookies.)

So … are they an oatmeal cookie recipe with chocolate chips? Or a chocolate chip cookie with oatmeal?

Yes, both! But this recipe leans towards the oatmeal cookie category because the dough is so thick, like oatmeal cookie dough. That's one reason the recipe calls for baking them at a lower temperature. A slower oven means the cookies have the chance to bake evenly.

Bottom line: this an easy cookie recipe that takes just 10 minutes to mix together and get into the oven. Everybody loves them because they are two favorites in one. Plus the cookies freeze well and are perfect for lunch boxes (if you can hide them long enough to pack them in lunches.)

Prep time: 10-15 minutes
Bake time: 11-12 minutes, divided
Makes about 2 ½ -3 dozen cookies


Get the full recipe for Oatmeal Chocolate Drop Cookies … and check out our Oatmeal Cookies Pinterest board for more cookie inspiration.
---
Get Organized For Fall
I'm all about finding simple ways to spend time on what matters and eliminate the stuff I don't need to do. Since you're a Cookie Elf reader, I bet you feel the same.

Summer is here. And you feel like you're disorganized … if you don't know what to do with the kids … if you feel overwhelmed with junk …

Here's some news that is a relief. Jane organized her home and her stuff in 7 days. She had to when she moved from Canada to Australia! When she figured out to streamline everything, it made a huge difference for her. It can for you too. Check out how you can drop your clutter and feel the relief in time for summer. More info.

---
Cookie Baking Tip: Lower Oven Temperature for Thick Cookie Dough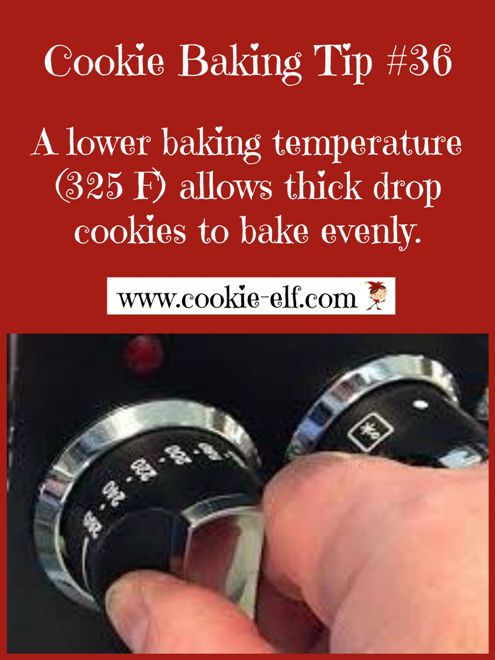 Image: The Cookie Elf
See more helpful cookie baking tips on The Elf's Baking Tips Pinterest Board .
---
Make Drop Cookies that Are Uniformly-Sized
More Easy Oatmeal Cookie Recipes

That's it for now. See you next time!

Happy baking,

Kathy, The Cookie Elf
www.cookie-elf.com