Dear Cookie Elf reader,



Welcome back to The Cookie Elf File! About once a week, The Elf sends you an easy cookie recipe and simple baking tips for baking homemade cookies.
---
Fellow Cookie Elves: Are You Ready for Holiday Baking?
It's not that far away. As you get ready for fall and winter, see the best-selling and most popular baking pans used by bakers like you. Take a look.

---
The Cookie Elf is on Pinterest
Join us on Pinterest! Browse our 80+ boards (and growing) for cookie inspiration and simple baking tips, like chocolate chip cookies, no bake cookies, cookie gift baskets -- even special treats like gluten-free cookies! Happy pinning!
---
Feature: Chewy Lemon Cookies - Tart and Sweet, Just 8 Ingredients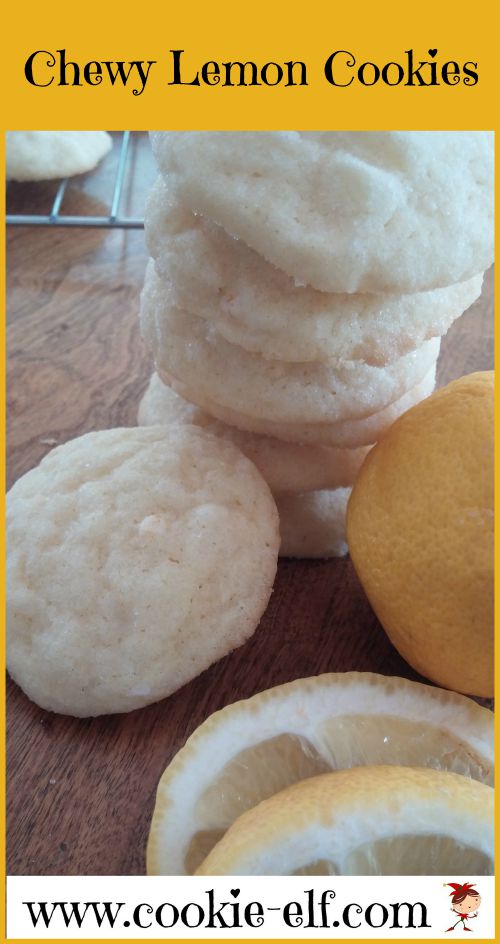 Image: The Cookie Elf

Chewy Lemon Cookies combine tart and sweet flavors in one easy drop cookie recipe. And better yet, these are soft, not crunchy.

They're so different from the phrase, "That's the way the cookie crumbles."

The expression must have been coined specifically for other lemon cookie recipes - those yielding a crumbly collection of broken pieces. Too often lemon cookies have a lackluster flavor and an over-crispy texture.

But this recipe makes soft, chewy lemon cookies and packed with just the right amount of bite, thanks to three kinds of lemon: fresh lemon, lemon flavoring, and lemon juice.

Lemon lover? You'll love these.

Prep time: 15 minutes
Set time: 9-10 minutes
Makes about 4 dozen cookies
Get the full recipe for Chewy Lemon Cookies … and check out our Drop Cookies Pinterest board for more cookie inspiration.
---
Save 50% on Simple Baking Mixes: Stock Up for Fall
At The Cookie Elf, we're all about home baking and home cooking – with less time and mess. So be sure to check out The Prepared Pantry. It's a family-owned business that sells baking mixes, kitchen tools, baking ingredients, and gourmet foods. Their mixes come straight to you from their own production and packing facility in Rigby, ID. I love that!
Best of all, their prices are really, really affordable.
Plus, The Prepared Pantry is the largest seller of bread mixes on the internet. You'll believe it when you browse more than 100 Bread Mixes from $2.00. While you're there, be sure to check out their Weekly Specials to save even more (I saw one mix discounted 83%.) Check out The Prepared Pantry and have fun browsing!
---
Cookie Baking Tip: What Is Lemon Zest?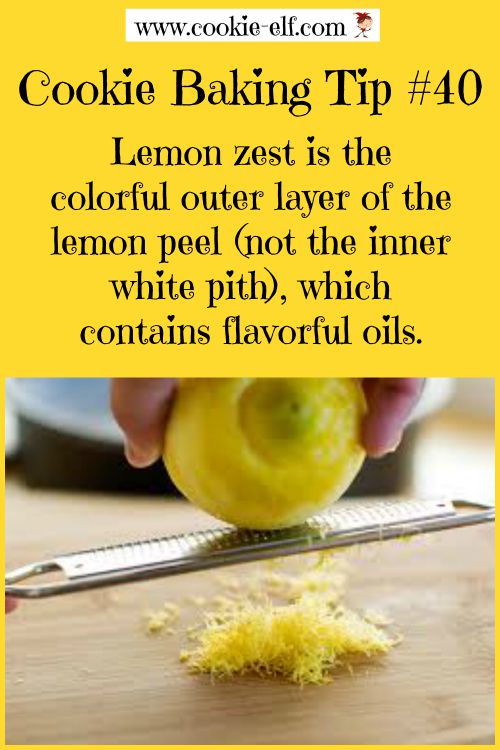 Image: The Cookie Elf
See more helpful cookie baking tips on The Elf's Baking Tips Pinterest Board .
---
Make Drop Cookies The Easy Way
More Easy Drop Cookie Recipes

That's it for now. See you next time!

Happy baking,

Kathy, The Cookie Elf
www.cookie-elf.com