Dear Cookie Elf reader,



Welcome back to The Cookie Elf File! About once a week, The Elf sends you an easy cookie recipe or simple baking tips for baking homemade cookies.
The Cookie Elf is on Pinterest!
Join us on Pinterest! Browse our 60+ boards (and growing) for cookie inspiration and simple baking tips, like chocolate chip cookies, no bake cookies, cookie gift baskets -- even special treats like gluten-free cookies! Happy pinning!
Feature: Chocolate Chip Bar Cookies: In the Oven in < 10 Minutes!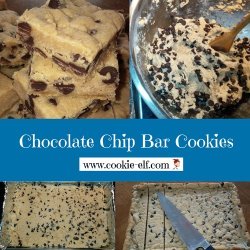 Image: The Cookie Elf

These Chocolate Chip Bar Cookies give you all the flavor of a traditional chocolate chip cookie recipe, but this recipe saves baking time and clean up time. They'll be in the oven in less than 10 minutes -- and out of the oven less than 20 minutes later.

Even better, these bars have the same texture as a soft, velvety chocolate chip cookie. They are moist ...almost like a chocolate chip truffle.

Prep time: <10 minutes
Bake time: 14-18 minutes
Makes 35-40 cookies

Get the full recipe for Chocolate Chip Bar Cookies. And you can see all kinds of chocolate chip cookie variations on our Chocolate Chip Cookies Pinterest Board.
---
Cookie Baking Tip of the Week: How to Keep Bar Cookies Moist



Image: The Cookie Elf

Typically bar cookies can be too dry and too hard – a danger inherent in the size of the pan. It can be tricky to make sure the entire pan of cookie dough gets baked. But by waiting for the edges to brown and the surface to look done, you inadvertently leave the cookies in the oven too long (even by just a couple of minutes).

Chocolate Chip Bar Cookies (above) are soft and moist. The key to this marvelous texture is two-fold:
Bake bars at a slightly higher temperature than normal (375º F) in order to set the cookie dough.
Remove bars from the oven before the cookie surface or edges turn brown. Remember, the bars retain heat and continue to set after they are removed from the oven. Don't let a light-colored surface lure you into leaving the bars in the oven too long.
See more helpful and interesting tips for baking cookies on our Cookie Baking Tips Pinterest board .
---
More Easy Chocolate Chip Cookie Recipe Variations

That's it for now. See you next time!

Happy baking,

The Cookie Elf
www.cookie-elf.com