Dear Cookie Elf reader,



Welcome back to The Cookie Elf File … and to easy cookie recipes! About once a week, The Elf sends you cookie recipes, cookie trivia and simple baking tips to give you easy ways to bake homemade cookies.
---
Get Ready for Valentine's Day Now: Cookie Cutters, Baking Gear, Decos
Valentine's Day is coming. There are plenty of simple, easy, and sweet ways to bake your love for your Valentine … for a school party … or for your family. Get great ideas and products to bake some love! Browse ideas.

---
The Cookie Elf is on Pinterest
Join us on Pinterest! Browse our 80+ boards (and growing) for cookie inspiration and simple baking tips, like chocolate chip cookies, no bake cookies, cookie gift baskets -- even special treats like gluten-free cookies! Happy pinning!
---
Cookie Recipe of the Week: Disappearing Marshmallow Brownies - Easy Blonde Brownies Recipe Variation



Image: The Cookie Elf

Disappearing Marshmallow Brownies are not brownies at all.

Rather they are blondies – a brownies recipe variation flavored with brown sugar rather than cocoa. And this one is also flavored with butterscotch chips.

And another misnomer: marshmallows in the cookie dough don't actually "disappear." They melt!

Sugar bonds in the marshmallows begin to break down when temperatures are at 103 degrees F or higher. So once you put the blondies into a heated oven, the marshmallows' spongey texture begins to to turn to "liquid" and seep into the cookie dough.

Prep time: 10 minutes
Bake time: 20-25 minutes
Makes about 3 -3 ½ dozen cookies


Get the full recipe for Disappearing Marshmallow Brownies … and check out our Brownies Pinterest board for more easy cookie recipes made from cake and cookie mixes.
---
Get Ready Now for Easter Fun
Easter is coming! How will you and your family celebrate?
The Un-Bunny Book answers that question! It's packed with fun activities, games, crafts, snacks, and stories that are based on Easter's true meaning.
Use it for kids ages 3-12 at home, school, church, in the community, or with your homeschool group -- or even to hold an outreach Easter event. The Un-Bunny Book shows kids and parents that Jesus' resurrection is something to celebrate. With reproducibles, too!
Learn more about The Un-Bunny Book here.
---
Cookie Baking Tip: Let Melted Mixture Cool Or THIS Happens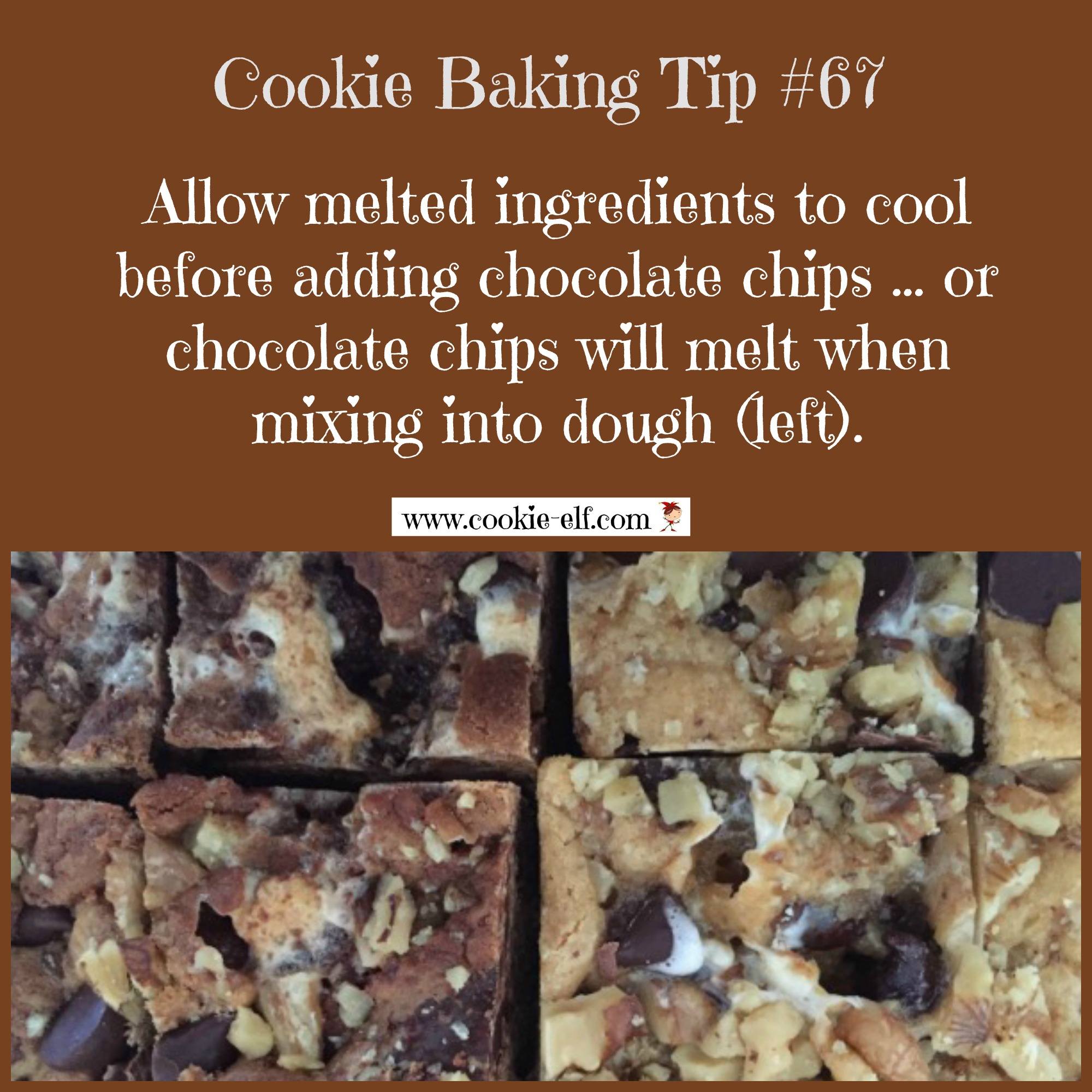 Image: The Cookie Elf
See more helpful cookie baking tips on The Elf's Baking Tips Pinterest Board .
---
Fun Ways to Bake and Give Valentine Love
More Easy Blonde Brownie Recipes

That's it for now. See you next time!

Happy baking,

Kathy, The Cookie Elf
www.cookie-elf.com