Dear Cookie Elf reader,



Welcome back to The Cookie Elf File … and to easy cookie recipes! About once a week, The Elf sends you cookie recipes, cookie trivia and simple baking tips to give you easy ways to bake homemade cookies.
---
How Do You Know If You Need a Cookie Scoop?
Try it. You'll like it, we promise. See the best-selling and most popular cookie scoops and ice cream scoops used by bakers like you. Take a look.

---
The Cookie Elf is on Pinterest
Join us on Pinterest! Browse our 80+ boards (and growing) for cookie inspiration and simple baking tips, like chocolate chip cookies, no bake cookies, cookie gift baskets -- even special treats like gluten-free cookies! Happy pinning!
---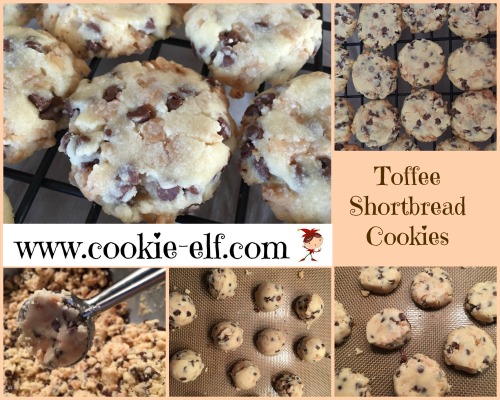 Image: The Cookie Elf
Toffee Shortbread Cookies are a unique hybrid of a traditional shortbread and molded drop cookies.
On the one hand, the recipe follows shortbread's classic ratio of ingredients (typically one part sugar, two parts butter, and three parts white flour) to produce a rich, crumbly biscuit-like cookie texture. Can you say ahhh?
But rather than pressing the cookie dough into a pan and cutting it when it is warm, these delectable individual shortbreads are formed when you scoop dough and roll it into 1-inch balls (as in other molded cookie recipes). Miniature chocolate chips and toffee bits may ooze out a bit when you bake them. You won't mind.
Prep time: 10-15 minutesBake time: 10-13 minutesMakes about 4 dozen cookies
Get the full recipe for Toffee Shortbread Cookies and check out our Shortbread Pinterest board for more fun and easy shortbread ideas.
---
Easter Fun for Kids, Families, Friends
Easter is coming! How will you and your family celebrate?
The Un-Bunny Book answers that question! It's packed with fun activities, games, crafts, snacks, and stories that are based on Easter's true meaning.
Use it for kids ages 3-12 at home, school, church, in the community, or with your homeschool group -- or even to hold an outreach Easter event. The Un-Bunny Book shows kids and parents that Jesus' resurrection is something to celebrate. With reproducibles, too!
Learn more about The Un-Bunny Book here.
---
Cookie Baking Tip: Butter or Margarine?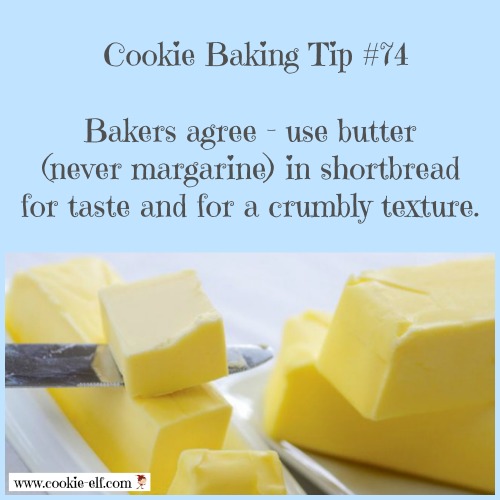 Image: The Cookie Elf
See more helpful cookie baking tips on The Elf's Baking Tips Pinterest Board .
---
Make Shortbread in Style
More Easy Shortbread Cookies Recipes

That's it for now. See you next time!

Happy baking,

Kathy, The Cookie Elf
www.cookie-elf.com