Dear Cookie Elf reader,



Welcome back to The Cookie Elf File … and to easy cookie recipes! About once a week, The Elf sends you cookie recipes, cookie trivia and simple baking tips to give you easy ways to bake homemade cookies.

Now during January, National Oatmeal Month, I'll share different kinds of easy cookie recipes with oatmeal.
---
Look What You Can Do With This FREE Brownie Mix - Just Use This Code
Our friends at Prepared Pantry have some easy step by step directions for making brownie pops. It's a perfect winter day indoor activity!
Check out the instructions here.
You can make brownie pops in as little as 15 minutes. Simply roll the brownies into a ball, insert sticks, and dip them in chocolate.
Or make square brownies on a stick. Bake the brownies, cut them, insert the sticks and then freeze. Afterwards, dip the brownies in melted chocolate or frosting. (Freezing makes them hold together while dipping.) Then thaw to serve.
It's a fun activity to do with the kids.
PLUS … Prepared Pantry will give you a brownie mix for FREE when you add the code ZBRN at checkout.
Browse more of The Prepared Pantry's weekly sales, too. Here are this week's specials. Have fun checking them out!
---
The Cookie Elf is on Pinterest
Join us on Pinterest! Browse our 80+ boards (and growing) for cookie inspiration and simple baking tips, like chocolate chip cookies, no bake cookies, cookie gift baskets -- even special treats like gluten-free cookies! Happy pinning!
---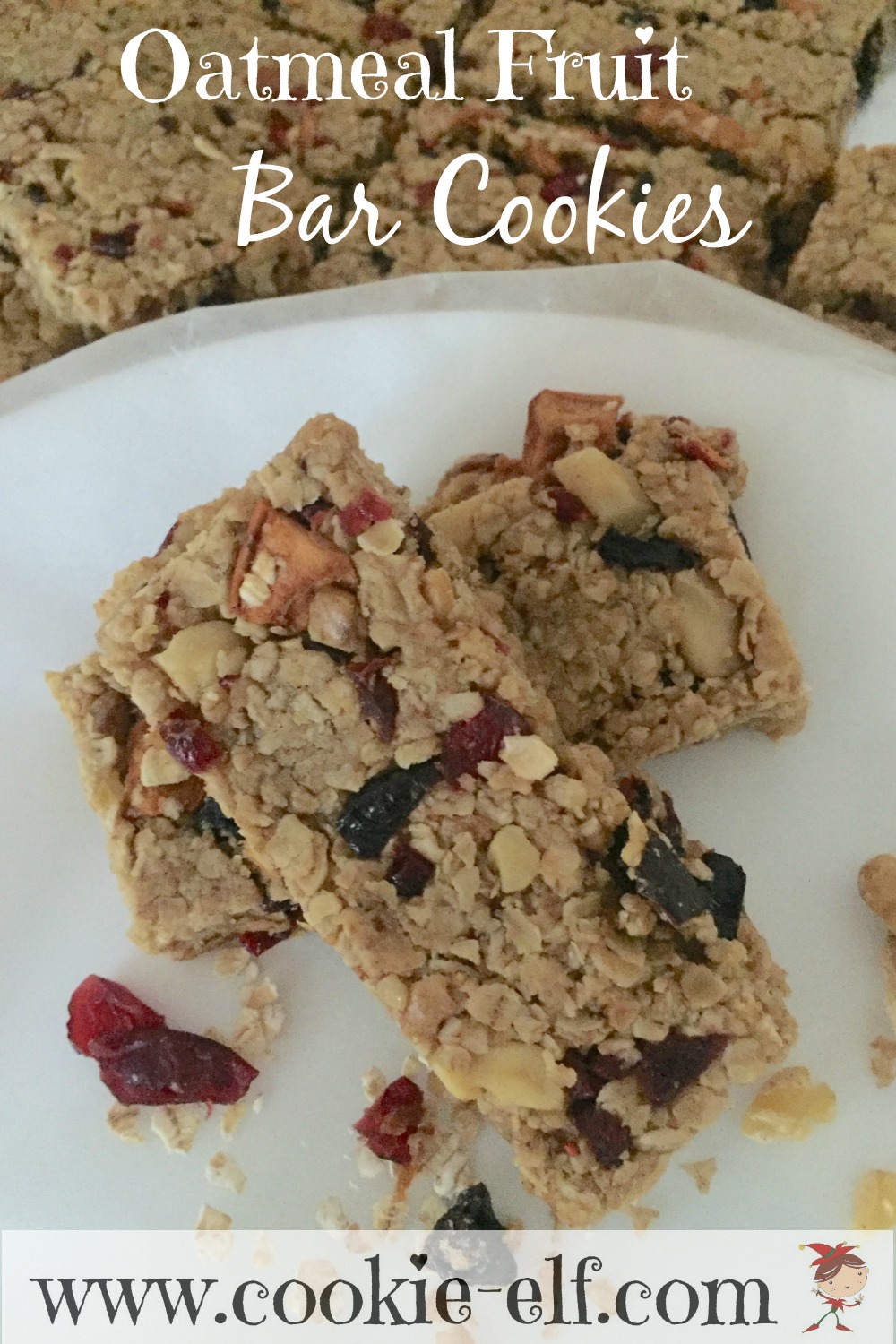 Image: The Cookie Elf
Healthy oatmeal cookies? Yep. Oatmeal Fruit Bar Cookies are a cross between a bar cookie and a granola bar. They are super-easy to make!
In fact, you may find that these are so simple and so good that you don't buy granola bars anymore but bake these instead.
And they're healthier than your average cookie, too, since most of the sweetness is from honey and dried fruit (with just a bit of brown sugar thrown into the mix). They're great for breakfast, too!
Don't buy dried fruit for this recipe unless you want to. Instead, take a look in your pantry and use any of the dried fruits and nuts that are already there, like raisins, dried cranberries, apricots, dates, plums, apples, or others.
Prep time: 10 minutes
Setting time: 18-20 minutes
Makes about 24 bars


Get the complete recipe for Oatmeal Fruit Bar Cookies… and check out more Oatmeal Cookie Recipes on our Pinterest board.
---
Get Organized in the New Year
I'm all about finding simple ways to spend time on what matters and eliminate the stuff I don't need to do. Since you're a Cookie Elf reader, I bet you feel the same.

Spring is here. And if spring cleaning isn't on your To-Do list (or if you don't know where to begin) … or if you feel like you're disorganized … if you feel overwhelmed with junk …

Here's some news that is a relief. Jane organized her home and her stuff in 7 days. She had to when she moved from Canada to Australia! When she figured out to streamline everything, it made a huge difference for her. It can for you too. Check out how you can drop your clutter and feel the relief in time for summer. More info.

---
Cookie Baking Tip: The Best 2 Types of Oatmeal to Use in Cookies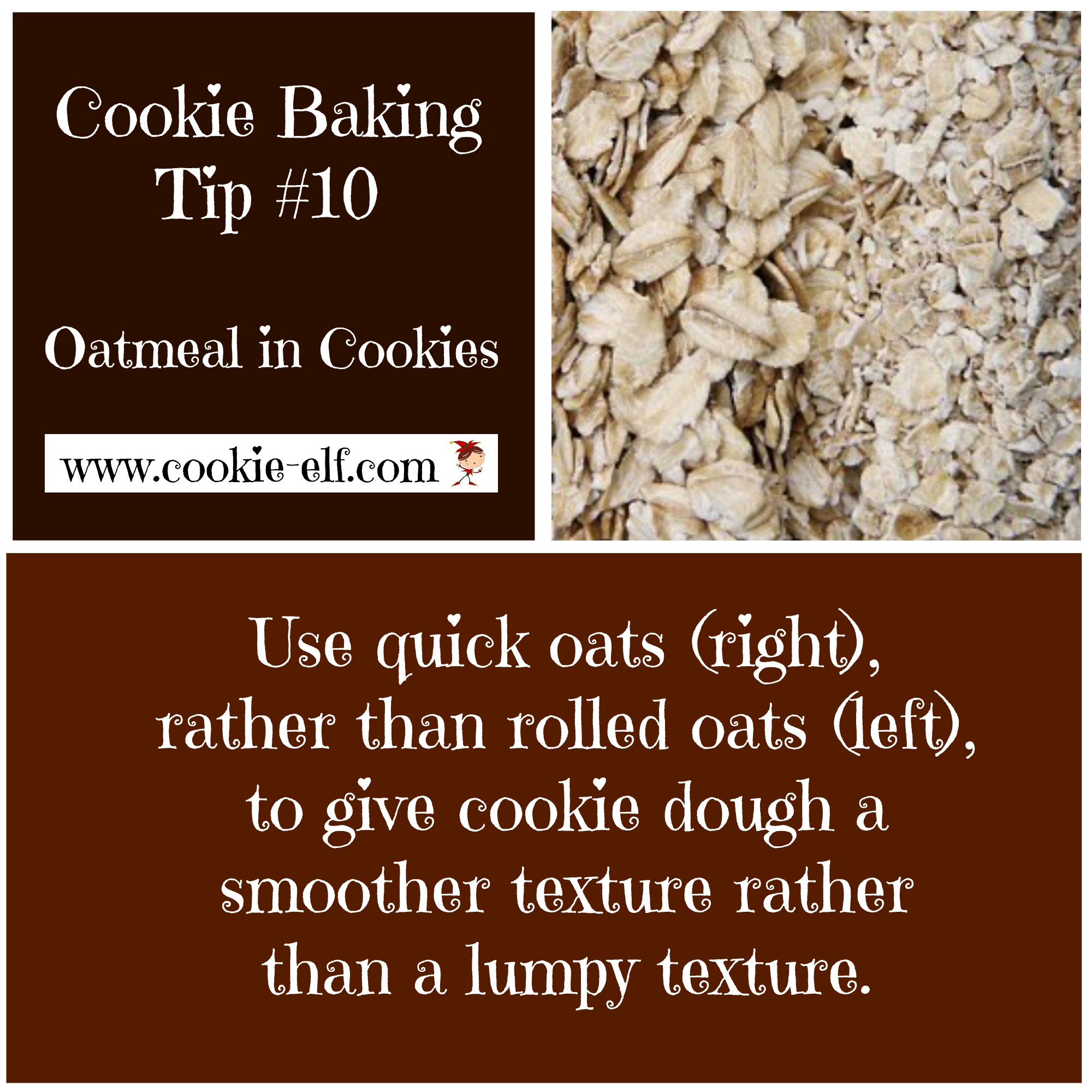 Image: The Cookie Elf
See more helpful cookie baking tips on The Elf's Baking Tips Pinterest Board .
---
Cut and Serve Bar Cookies Faster, Easier
More Easy Bar Cookie Recipes with Oatmeal

That's it for now. See you next time!

Happy baking,

Kathy, The Cookie Elf
www.cookie-elf.com