Dear Cookie Elf reader,



Welcome back to The Cookie Elf File … and to easy cookie recipes! About once a week, The Elf sends you cookie recipes, cookie trivia and simple baking tips to give you easy ways to bake homemade cookies.

Today's feature is a Cherry Shortbread Recipe you can bake up as you celebrate National Cherry Month in February!
---
Be a Cut Up!
Cutting boards: you use them every day. Make sure yours are up to the task. Browse all kinds of long-lasting cutting boards and cutting mats of all types – at best prices. Take a look.

---
The Cookie Elf is on Pinterest
Join us on Pinterest! Browse our 80+ boards (and growing) for cookie inspiration and simple baking tips, like chocolate chip cookies, no bake cookies, cookie gift baskets -- even special treats like gluten-free cookies! Happy pinning!
---
Feature: Love Cherries? White Chocolate? Make This Cherry Shortbread Recipe



Image: The Cookie Elf

Love cherries? White chocolate? Both? This Cherry Shortbread Recipe is a lovely, colorful variation of the rich, buttery classic bars with your favorite flavors. And it's so easy to make!

Maraschino cherries are bright red, flavored with sweetener and almond flavoring, and processed in sugar syrup. The trick to using them in this recipe is to chop them finely and then set them in a colander to drain while you mix the cookie dough. This prevents runny or lumpy shortbread and distributes the flavors through the bars.

Prep time: 10 minutes
Cooling time: 20-25minutes
Makes about 6 dozen shortbread bars



Get this Cherry Shortbread Recipe: … and check out other Shortbread Recipes on our Pinterest board.
---
Easter Fun with Kids, Families, Neighbors, Friends
Easter is coming! How will you and your family celebrate?
The Un-Bunny Book answers that question. It's packed with fun activities, games, crafts, snacks, and stories that are based on Easter's true meaning.
Use it for kids ages 3-12 at home, school, church, in the community, or with your homeschool group. It's perfect when you're trying to social distance, too, because you can conduct activities outside.
The Un- Bunny Book shows kids and parents that Jesus' resurrection is something to celebrate. With reproducibles, too!
Learn more about The Un-Bunny Book here.
---
Cookie Baking Tip: How to Cut Shortbread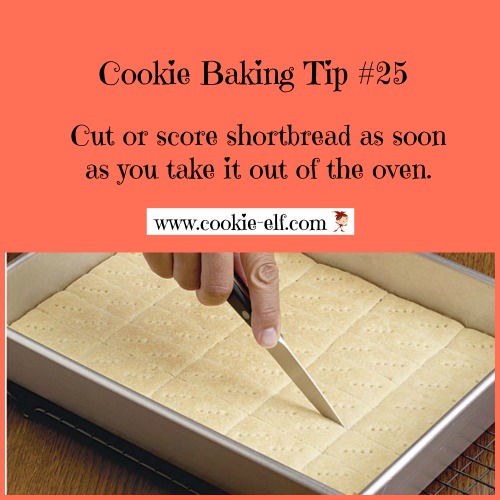 Image: The Cookie Elf
See more helpful cookie baking tips on The Elf's Baking Tips Pinterest Board .
---
Make Good Clean Cuts!
More Easy Shortbread Recipes

That's it for now. See you next time!

Happy baking,

Kathy, The Cookie Elf
www.cookie-elf.com