Dear Cookie Elf reader,



Welcome back to The Cookie Elf File … and to easy cookie recipes! About once a week, The Elf sends you cookie recipes, cookie trivia and simple baking tips to make baking cookies easy and fun for your family.

Candy overload? Use this easy Candy Bar Cookies recipe to use leftover Halloween treats. Enjoy!
---
Give Cookies As Gifts: Simple and Creative
Simple to use, fill, and tie: gifting homemade treats is a pleasure! Browse and find cookie treat gift bags that are easy to use, stand up once filled, and look great. Take a look.

---
Feature: Easy Candy Bar Cookies: Use Up Your Leftover Candy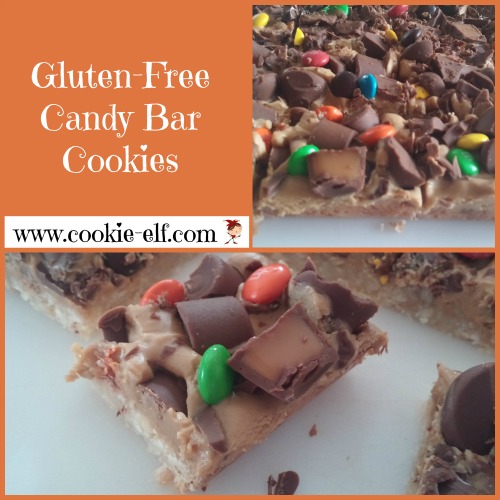 Image: The Cookie Elf

These Gluten Free Candy Bar Cookies are a fun way to use candy that is leftover from a holiday (like Halloween, Easter, Valentine's Day, or Christmas).

And for those who eat only gluten free desserts … well, have at it!

You make the bars in 3 layers. First, you bake the cookie base.

Once that comes out of the oven, spread dollops of peanut butter on the top and then sprinkle the surface with chopped candy.

Spoiler alert: these cookies are best after you chill them in the fridge.

But whether at room temperature or cold, they are hard to beat.

Prep time: 10 minutes
Bake time: 25-30 minutes
Makes 24-36 bars

Get the full Candy Bar Cookies recipe… and check out our Gluten Free Cookies Pinterest board for more cookie inspiration.
---
Cookie Baking Tip: Different Candies Make Fun Cookies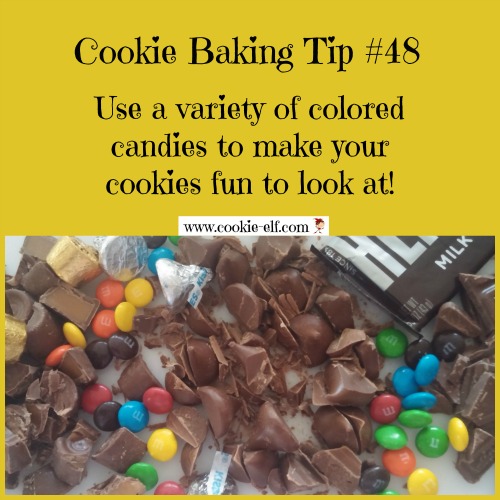 Image: The Cookie Elf
See more helpful cookie baking tips on The Elf's Baking Tips Pinterest Board .
---
Easier Ways to Cut Bars
More Easy Cookie Recipes for Leftover Candy

That's it for now. See you next time!

Happy baking,

Kathy, The Cookie Elf
www.cookie-elf.com