Dear Cookie Elf reader,



Welcome back to The Cookie Elf File … and to easy cookie recipes! About once a week, The Elf sends you cookie recipes, cookie trivia and simple baking tips to give you easy ways to bake homemade cookies.

Jump in to our 12 Days of Simple Christmas Cookie Recipes with Day 11 and a fun, no-bake cookie recipe that you can make with less mess.
---
Fun Cookie Ideas at Craftsy – Perfect to Use During Holiday Break
Check out all kinds of online classes, freebies, cookie patterns, cookie recipes at Craftsy. Have some fun and browse!

---
The Cookie Elf is on Pinterest!
Join us on Pinterest! Browse our 80+ boards (and growing) for cookie inspiration and simple baking tips, like chocolate chip cookies, no bake cookies, cookie gift baskets -- even special treats like gluten-free cookies! Happy pinning!
---
12 Days of Christmas Cookies
Image: The Cookie Elf
Christmas Wreath Cookie Recipe: Christmas Wreath Cookies Recipe – this favorite has been around for decades! It's a take-off on Rice Krispie Treats, but corn flakes replace the crispy rice cereal. And they're no-bake cookies!
For years I shied away from making these adorable little wreaths – "Too messy," I said to excuse myself. My fingers struggled to get wayward cornflakes to shape into small little circles. That is until I discovered some mess-saving tips. The key was to find a way to give the wreaths a hole in the center without having all the gooey cornflake mixture stick to your fingers.
The answer: water on your fingertips as you handle the mixture and using the rounded end of a spoon to poke a hole in the center of preformed balls to make the wreaths (see Cookie Baking Tip below.)
Prep time: 15-20 minutes
Setting time: 20-30 minutes, divided
Makes about 2 dozen cookies


Get the full Christmas Wreath Cookie Recipe … and check out more No-Bake Cookies on our Pinterest board.
---
Cookie Baking Tip: Save Sticky Cookie Dough Mess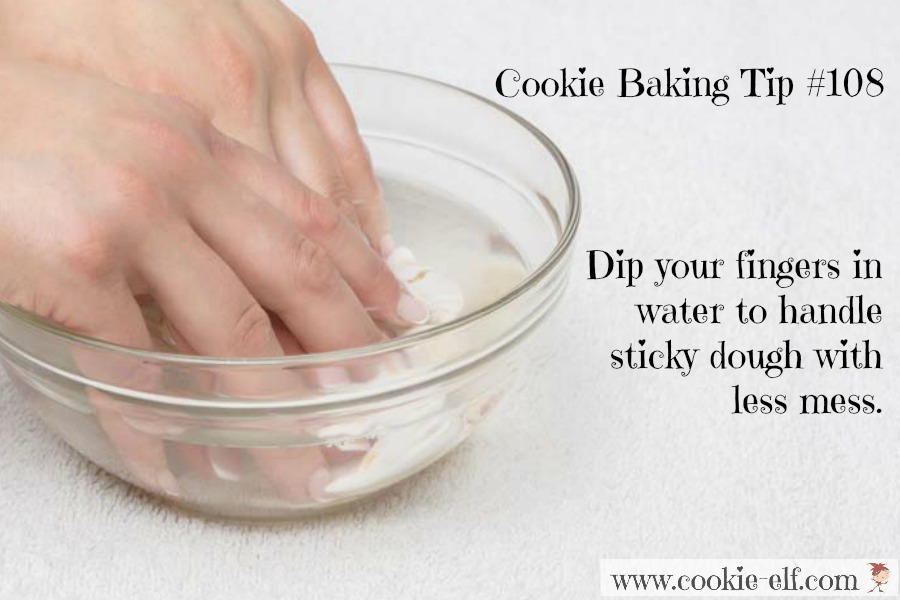 Image: The Cookie Elf
See more helpful cookie baking tips on The Elf's Baking Tips Pinterest Board .
---
Have Fun During Your Holiday Break
More Easy No-Bake Cookie Recipes

That's it for now. See you next time!

Happy baking,

Kathy, The Cookie Elf
www.cookie-elf.com