Dear Cookie Elf reader,



Welcome back to The Cookie Elf File … and to easy cookie recipes! About once a week, The Elf sends you cookie recipes, cookie trivia and simple baking tips to save you time, mess, and money so you can bake homemade cookies.

Check out these easy Pecan Praline Blondies - a simple blondie bar cookie recipe to make for National Pecan Day on April 14. Enjoy!
---
Chop, Dice, Slice – Safely
Cutting boards: you use them every day. Make sure yours are up to the task. Browse all kinds of long-lasting cutting boards and cutting mats of all types – at best prices. Take a look.

---
The Cookie Elf is on Pinterest
Join us on Pinterest! Browse our 80+ boards (and growing) for cookie inspiration and simple baking tips, like chocolate chip cookies, no bake cookies, cookie gift baskets -- even special treats like gluten-free cookies! Happy pinning!
---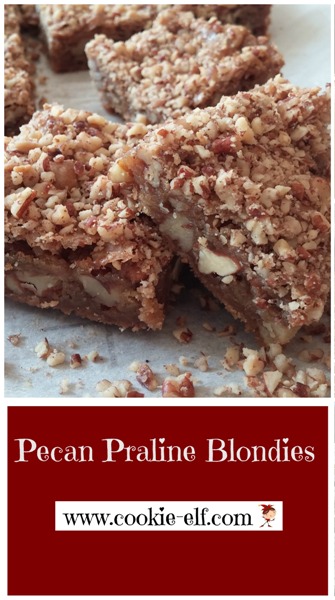 Image: The Cookie Elf

Pecan Praline Blondies are so simple! Just 7 ingredients that you mix together entirely on the stovetop. Yup, that's an easy clean up.

But don't let simplicity fool you. These rich, buttery bars will become a favorite if you love pecan pie, pralines, or anything caramel. The recipe calls for brown sugar as its main flavoring – hence the bars' classification as a "blondie" – rather than the customary cocoa or melted chocolate which typifies brownies.

The result is a rich caramel-and-nut bar with dense texture that comes from cooking brown sugar and butter together, a flavor long associated with praline candy.

Pralines, a confection made from nuts and caramelized sugar syrup, originated in France. Settlers brought the concoction to the southern U.S., where the prevalence of pecan trees made the pecan-praline pairing quite popular.

Prep time: 10 minutes
Bake time: 25-30 minutes
Makes 35 bars


Get the full recipe for Pecan Praline Blondies … and see other easy blondie and brownie recipes on The Elf's Brownies and Blondies Pinterest Board.
---
FREE! Kids Learn to Bake in Online Course
From following a recipe to sharing the delicious results, instructor Paula Gray shows kids just how much fun baking can be as part of Bake for Good: Kids Learn to Bake program, a free course offered online in 4 easy sessions.

First, kids will learn how to prepare to bake and become familiar with the ingredients they'll use. Then, Paula discusses the importance of measuring carefully and correctly. Next, kids find out how to mix ingredients together and pick up special kneading tips for bread that rises perfectly. Finally, Paula demonstrates each step of turning dough into a classic loaf, a beautiful braid, scrumptious cinnamon rolls, popular dinner rolls, perfect pizza and more.

Plus, these recipes make enough for kids to enjoy and share - a perk that will make them popular with family and friends. Find out more and have fun!.

---
Cookie Baking Tip: How Long Do Pecans Stay Fresh?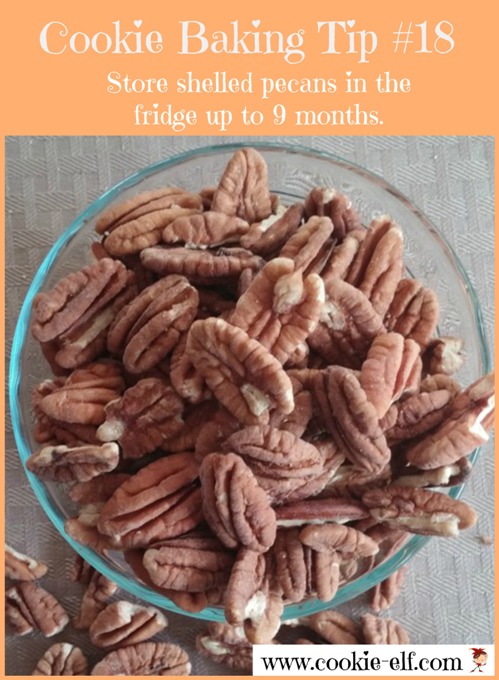 Image: The Cookie Elf
See more helpful cookie baking tips on The Elf's Baking Tips Pinterest Board .
---
Chop, Chop!
More Easy Blondie Recipes

That's it for now. See you next time!

Happy baking,

Kathy, The Cookie Elf
www.cookie-elf.com