Dear Cookie Elf reader,



Welcome back to The Cookie Elf File … and to easy cookie recipes! About once a week, The Elf sends you cookie recipes, cookie trivia and simple baking tips to save you time, mess, and money so you can bake homemade cookies.
---
Did You Know? There are 4 Types of Food Coloring You Can Use
Food coloring is a fun extra you can use to color cookie dough (or any food). There are 4 kinds of food coloring to explore and an unlimited number of color combinations. Have fun! Browse food coloring here.
---
The Cookie Elf is on Pinterest
Join us on Pinterest! Browse our 80+ boards (and growing) for cookie inspiration and simple baking tips, like chocolate chip cookies, no bake cookies, cookie gift baskets -- even special treats like gluten-free cookies! Happy pinning!
---
Feature: Easy Candy Bar Cookies: Use Up Your Leftover Halloween Candy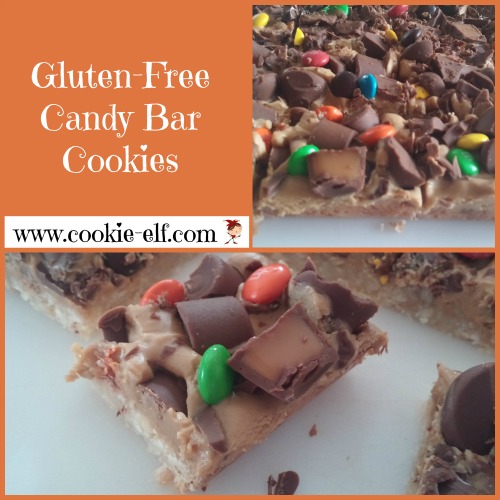 Image: The Cookie Elf

These Easy Candy Bar Cookies: are a fun way to use candy that is leftover from a holiday (like Halloween, Easter, Valentine's Day, or Christmas).

And for those who eat only gluten free desserts … well, have at it!

You make the bars in 3 layers. First, you bake the cookie base.

Once that comes out of the oven, spread dollops of peanut butter on the top and then sprinkle the surface with chopped candy.

Spoiler alert: these cookies are best after you chill them in the fridge.But whether at room temperature or cold, they are hard to beat.

Prep time: 10 minutes
Bake time: 25-30 minutes
Makes 24-36 bars

Get the full Easy Candy Bar Cookies: recipe… and check out our Gluten Free Cookies Pinterest board for more cookie inspiration.
---
Get Ready for the Holidays for Just $1
Yep, it's that time of year. (Well. almost.)
But you can save money, time, and aggravation when you get your holiday decorations, stocking stuffers, cards, wrapping paper, even gifts for $1 each. And if you shop online, you can avoid the crowds.
Browse Dollar Tree and get what you need. Everything's a $1 .
---
Cookie Baking Tip: Easy Way to Customize a Cookie Recipe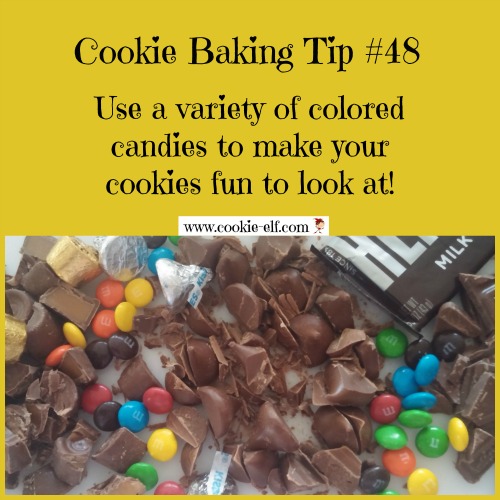 Image: The Cookie Elf
See more helpful cookie baking tips on The Elf's Baking Tips Pinterest Board .
---
Learn More about Cutting Bar Cookies Faster, Easier
More Easy Cookie Recipes for Leftover Candy

That's it for now. See you next time!

Happy baking,

Kathy, The Cookie Elf
www.cookie-elf.com