Dear Cookie Elf reader,



Welcome back to The Cookie Elf File! About once a week, The Elf sends you an easy cookie recipe or simple baking tips for baking homemade cookies.
The Cookie Elf is on Pinterest!
Join us on Pinterest! Browse our 60+ boards (and growing) for cookie inspiration and simple baking tips, like chocolate chip cookies, no bake cookies, cookie gift baskets -- even special treats like gluten-free cookies! Happy pinning!
Feature: Butterscotch Brownies: Easy Cookie Recipe, Great for Lunch Boxes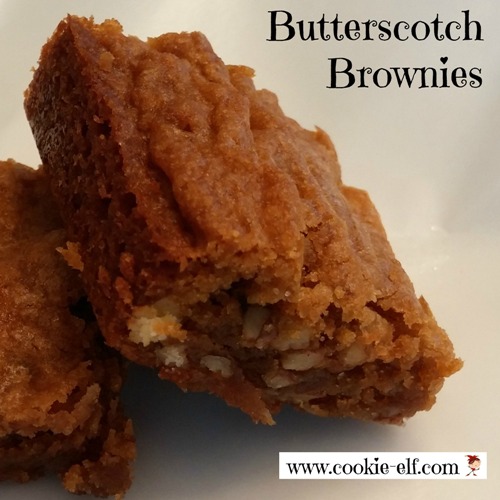 Image: The Cookie Elf

Butterscotch Brownies are one of the simplest bar cookie recipes to make from scratch. The brownies call for just 7 ingredients (8 if you add nuts.)

They are a classic bar cookie that resemble chocolate brownies. Yet instead of cocoa or melted chocolate for flavor, the bars call for brown sugar. The result is a rich butterscotch flavor and dense texture, particularly if you add the optional nuts.

Like other brownies and blondies, Butterscotch Brownies have a dense texture that allows the individually-cut bars to be eaten as finger food. The bars hold up well when wrapped individually in plastic wrap and packed into lunch boxes.

Prep time: 10 minutes
Bake time: 22-25 minutes
Makes 25 bars

Get the full recipe for Butterscotch Brownies. And be sure to get more inspiration on our Bar Cookies Pinterest Board.
---
Cookie Baking Tip of the Week: Baking Cookies for Packing in Lunch Boxes
Image: Land O' Lakes
Now as children prepare to start a new school year, it is time to brush off the lunch boxes and figure out what to send the kiddos to eat in the cafeteria each day. The best lunch box cookies are those that pack easily. That means …
No frosting. Sticky tops are wonderful on a plate with a fork. But they can make a sticky mess in a brown paper bag.
Firm texture. Cake-like cookies are soft and light. They tend to split up when jostled in a lunch box. Choose dense and compact cookies for lunches.
Simple shape. Bake and pack cookies that can slip easily into a zipped-top sandwich bag or wrapped quickly in a small piece of plastic or foil.
More than anything else, great lunch box cookies are easy to make. When the process is simple, then you'll be more apt to bake cookies to pack into lunches each week.

See more Lunch Box Cookie Ideas on our Pinterest board.
---
More Lunch Box Cookie Recipes from The Elf

That's it for now. See you next time!

Happy baking,

The Cookie Elf
www.cookie-elf.com