Dear Cookie Elf reader,



Welcome back to The Cookie Elf File! About once a week, The Elf sends you an easy cookie recipe and simple baking tips for baking homemade cookies.
---
Save 50% on Simple Gourmet Mixes from The Prepared Pantry
At The Cookie Elf, we're all about home baking and home cooking – with less time and mess. So be sure to check out The Prepared Pantry. It's a family-owned business that sells baking mixes, kitchen tools, baking ingredients, and gourmet foods. Their mixes come straight to you from their own production and packing facility in Rigby, ID. I love that!
Best of all, their prices are really, really affordable.
Plus, The Prepared Pantry is the largest seller of bread mixes on the internet. You'll believe it when you browse more than 100 Bread Mixes from $2.00. While you're there, be sure to check out their Weekly Specials to save even more (I saw one mix discounted 83%.) Check out The Prepared Pantry and have fun browsing!
---
The Cookie Elf is on Pinterest
Join us on Pinterest! Browse our 80+ boards (and growing) for cookie inspiration and simple baking tips, like chocolate chip cookies, no bake cookies, cookie gift baskets -- even special treats like gluten-free cookies! Happy pinning!
---
Feature: The Classic No Bake Cookie Recipe – Ready in Less Than 10 Minutes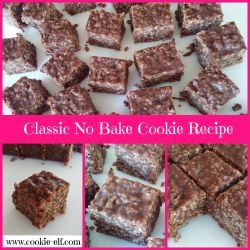 Image: The Cookie Elf

This classic No Bake Cookies Recipe is the granddaddy of all no bakes.

If you're from the southeast (or more specifically Appalachia), you call them Preacher Cookies. You could put them together in just a few minutes and be ready to serve them in the time you spotted the preacher coming up the mountain until the moment he knocked at your door.

If you're from Texas, you may call them Poodgies (don't know why). If you live on a farm, you may call them Cow Patties (no explanation needed.)

They're simple. They're quick. They call for basic ingredients you have in your cupboard right now.

Prep time: 10 minutes
Chilling time (optional): 15-30 minutes
Makes about 16-25 bars or drop cookies


Get the full No Bake Cookie Recipe … and check out our No Bake Cookies Pinterest board for more cookie inspiration.
---
Craft Classes for Free for 7 Days: Perfect for Midsummer Boredom
If you like to make or bake or build or create – or you want to keep your kids busy in the summer – you'll want to spend some time wandering around Bluprint's site for ideas (formerly Craftsy.)

I confess that I nearly go on overload when I log on. It's so much fun! You can search all kinds of classes and downloadable tutorials. Just tune in on your own schedule and re-watch as often as you like. Plus find plenty of support along the way in chat forums with fellow enthusiasts in crafts, art, quilting, paper craft, embroidery, photography, gardening, spinning, woodworking, baking, cooking, jewelry making…

One thing I like to do is regularly check Bluprint's free classes listing. Have fun. I know I will.
---
Cookie Baking Tip: What's a Rolling Boil?
Image: The Cookie Elf
See more helpful cookie baking tips on The Elf's Baking Tips Pinterest Board .
---
Stovetop and Melting Magic: Some of Our Faves
More Easy No-Bake Cookies

That's it for now. See you next time!

Happy baking,

Kathy, The Cookie Elf
www.cookie-elf.com