Dear Cookie Elf reader,



Welcome back to The Cookie Elf File! About once a week, The Elf sends you an easy cookie recipe and simple baking tips for baking homemade cookies.
---
Halloween Cookies Your Way
Decorating brownies or cookies? Browse an amazing selection of sprinkles, colored sugars, icing, and cookie decorations at best prices. Have fun!.

---
The Cookie Elf is on Pinterest
Join us on Pinterest! Browse our 80+ boards (and growing) for cookie inspiration and simple baking tips, like chocolate chip cookies, no bake cookies, cookie gift baskets -- even special treats like gluten-free cookies! Happy pinning!
---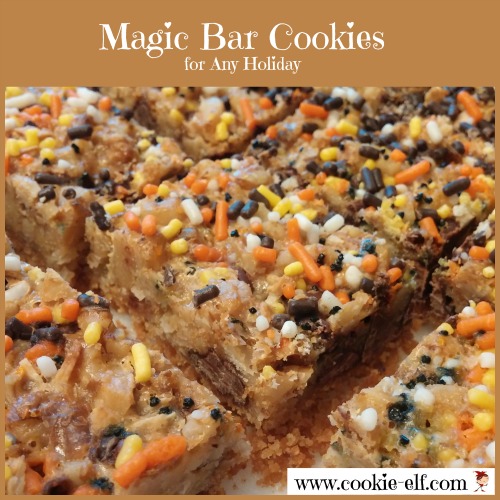 Image: The Cookie Elf
Halloween Magic Bar Cookies are an easy bar cookie recipe that has been around more than half a century.
You can adjust this simple recipe for any season or occasion with just one little tweak: add cookie decorations.
For instance, if you're looking for Halloween cookie ideas, you can make these Magic Bars. Before baking, sprinkle the top surface with orange and brown sprinkles … yellow and orange colored sugar … Halloween cookie decos …
You get the idea.
It's an easy way to dress up these long-time favorite bars. You know when a cookie recipe works. Now make it work during different seasons, too.
Prep time: 10 minutes
Bake time: 25-30 minutes
Makes 24-36 bars
Get the full Halloween Magic Bar Cookies Recipe… and check out our Easy Bar Cookies Pinterest board for more cookie inspiration.
---
Now: Great Clearance Deals for Kitchen and Home
Check out the Home & Kitchen Outlet at Gardener's Supply. This is the GS page where you can get fun and unique items for your home and garden at clearance prices. It's so much fun to browse around. And if you find something at a bargain price - well, go for it!

Plus, they donate 8% of their profits to home and garden improvement programs.

But apart from all that good stuff, their Home & Kitchen Outlet has great deals. Check them out here.
---
Cookie Baking Tip: How to Tweak a Cookie Recipe for Halloween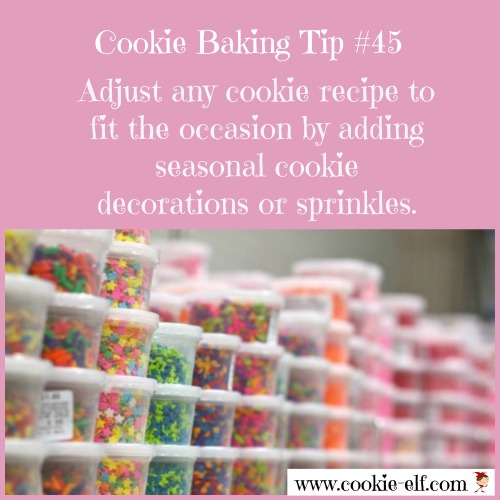 Image: The Cookie Elf
See more helpful cookie baking tips on The Elf's Baking Tips Pinterest Board .
---
How To's and Gear for Decorating Cookies
More Easy Layer Bar Cookies

That's it for now. See you next time!

Happy baking,

Kathy, The Cookie Elf
www.cookie-elf.com