Dear Cookie Elf reader,



Welcome back to The Cookie Elf File! About once a week, The Elf sends you an easy cookie recipe or simple baking tips for baking homemade cookies.
The Cookie Elf is on Pinterest!
Join us on Pinterest! Browse our 60+ boards (and growing) for cookie inspiration and simple baking tips, like chocolate chip cookies, no bake cookies, cookie gift baskets -- even special treats like gluten-free cookies! Happy pinning!
Feature: Easy Snickerdoodles: Just 4 Ingredients!



Image: The Cookie Elf

Easy Snickerdoodles, a variation of the timeless molded cookie, are the ultimate "comfort food cookie" – not just in taste but also in simplicity.

This recipe follows the pattern of traditional Snickerdoodles: they are a classic sugar cookie recipe rolled in cinnamon sugar rather than just granulated sugar. But what makes this Snickerdoodles version so simple is its base. It calls for a cinnamon muffin mix or a cinnamon cake mix as the key ingredient, thereby eliminating the mess that can be part of measuring and mixing. And because the cinnamon cake mix includes pre-mixed cinnamon sugar, you save the additional step of mixing those items, too.

Prep time: 10-15 minutes
Bake time: 8-10 minutes
Makes 30-36 cookies

Get the full recipe for Easy Snickerdoodles. And you can see all kinds of Snickerdoodle variations on our Snickerdoodles Pinterest Board.
---
Cookie Baking Tip of the Week: How to Alter a Cookie's Texture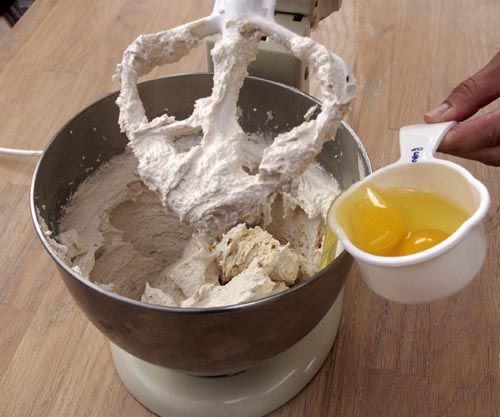 Image: My Home Cooking

You can vary a cookie's texture (such as the texture of Easy Snickerdoodles) with simple changes to the recipe.
Cookies can have a crisper texture if you eliminate one egg from the cookie recipe.
Cookies can have a more cake-like texture if you add an extra egg to the recipe.
Cookies can be chewy or crispy depending on how long you bake them. For a chewier cookie, bake on the low side of the suggested time. For a crisper cookie, bake 1-2 minutes longer.
See more helpful and interesting tips for baking cookies on our Cookie Baking Tips Pinterest board .
---
More Molded Cookies: Fun and Easy Cookie Recipes from The Elf

That's it for now. See you next time!

Happy baking,

The Cookie Elf
www.cookie-elf.com