Funfetti Sugar Cookies:
Easy Cake Mix Cookie Recipe

Funfetti Sugar Cookies are a variation of the classic Christmas sugar cookie recipe, which you can adapt using different colors of sprinkles and nonpareils to suit the occasion – such as Valentine's Day, St. Patrick's Day, Cinco de Mayo, the Fourth of July, Halloween, or another themed event. They add a colorful touch to any cookie tray. Best of all, these cookies are easy to make. They look like you spent a lot more time on them than you actually do.
Prep time: 10 minutes
Bake time: 7-9 minutes
Makes about 3 dozen cookies
Ingredients
1 (18 ounce) sugar cookie mix (like Betty Crocker's Sugar Cookie Mix)

½ cup (1 stick) butter or margarine, softened
1 egg
¼ cup colored nonpareils (about 2 ounces)
3 tablespoons rainbow baking sprinkles plus additional to decorate cookie surfaces
Directions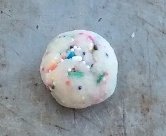 Preheat oven to 375º F.


Place sugar cookie mix, butter, and eggs in a medium mixing bowl. Using an electric mixer on medium speed, combine the ingredients, scraping the bowl regularly. Mix until dough is well blended and the dry ingredients have been absorbed.


Add nonpareils and baking sprinkles. Mix until they are just incorporated into the dough.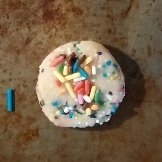 Form the dough into round, scant 1-inch balls in a consistent size, using a tiny scoop, small kitchen teaspoon, or a measuring teaspoon.. Place cookies on ungreased baking sheets 2 inches apart. Coat the bottom of a drinking glass with vegetable spray. Use the bottom of the glass to press down the balls into round cookies. Add additional rainbow sprinkles to the surface of each cookie and press them lightly.


Bake cookies for 7-9 minutes until cookies are set or edges are light golden brown. Do not over bake.


Remove cookie sheets from the oven. Allow cookies to sit for 1 minute before using a spatula to transfer them to a wire rack. Cool completely.


Store cookies in an airtight container using waxed paper or parchment paper to separate layers.
Special Baking Tips from The Elf
You can use your favorite sugar cookie recipe or any sugar cookie mix to prepare cookie dough to make Funfetti Sugar Cookies. Follow recipe instructions. If the recipe volume is greater or lesser than specified in this recipe, adjust nonpareil and rainbow sprinkles amounts accordingly. For example, when you use a 22-ounce sugar cookie mix, add 25% more of the added ingredients (an extra tablespoon of nonpareils and an extra 2 teaspoons of sprinkles.)


Funfetti Sugar Cookies are an ideal holiday cookie recipe – you can adapt them to fit any event or celebration. Simply choose nonpareils and sprinkle colors to match the theme of the event or holiday.
The Elf Recommends These Easy Cookie Recipes Made from Mixes

Butterscotch Cake Mix Cookies: just 4 ingredients ...
Choco-Butterscotch Bars: Bake-Off favorite made from a cake mix ...
Chocolate-Cherry Bars: a favorite from Pillsbury Bake-Off #25 ...
Cranberry Sugar Cookies: Just 3 Ingredients ...
Fran's Cherry Chocolate Chip Cookies ...
Peanut Butter Fudge Bars: cake mix, peanut butter, chocolate chips ...
Pecan Pie Surprise Bars: easy cookie recipe and Bake-Off #22 winner ...
Pineapple Coconut Bars from Bake-Off #35 ...
Red Velvet Crinkle Cookies ...
Red Velvet Sugar Cookies: easy sugar cookie recipe ...

Return from Funfetti Sugar Cookies to The Cookie Elf home