Dear Cookie Elf reader,



Welcome back to The Cookie Elf File! It's that time of year when we send you cookie recipes, cookie trivia and simple baking tips to give you easy ways to bake 12 days of Christmas cookies.

This year, we're sending you two recipes in each email to cut down on the mail in your inbox. Bookmark or pin these recipes so you can use them in your holiday baking.

---
A Hint for Santa
See the best-selling and most popular electric mixers used by bakers like you. Take a look. (And then forward this to Santa.)

---
The Cookie Elf is on Pinterest
Join us on Pinterest! Browse our 80+ boards (and growing) for cookie inspiration and simple baking tips, like chocolate chip cookies, no bake cookies, cookie gift baskets -- even special treats like gluten-free cookies! Happy pinning!
---
12 Days of Christmas Cookies, Day 5: Fruitcake Shortbread - Easy Fruited Christmas Shortcake Cookie Recipe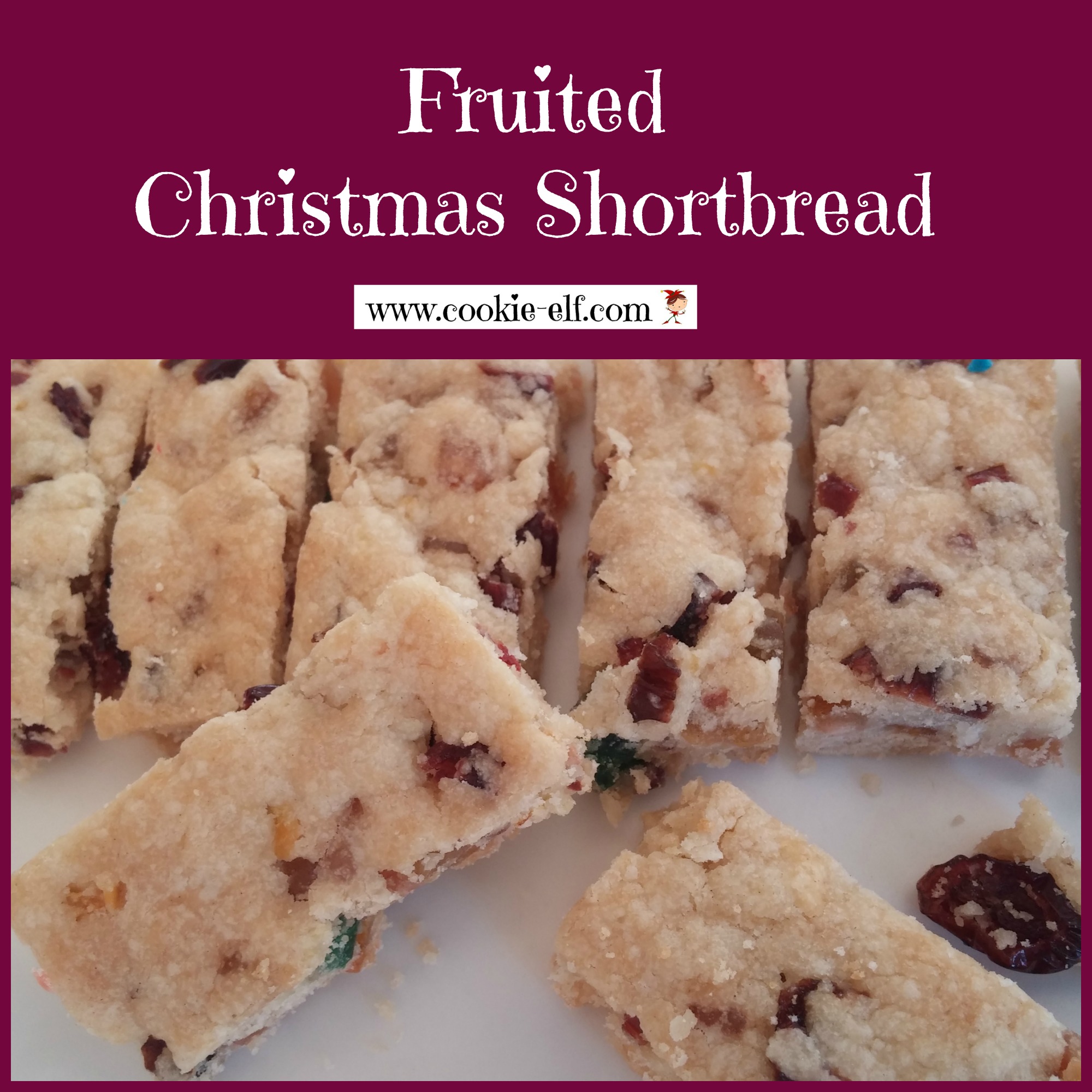 Image: The Cookie Elf

Fruitcake Shortbread marries two traditional flavors – colorful combination fruitcake mix and the warm richness associated with shortbread.

This is an easy bar cookie recipe to use if your friends and relatives wrinkle their nose at traditional fruitcake or if you have leftover fruitcake mix. It's hard to beat shortbread's flavor, no matter what you add to it!

Contrary to the popular belief that fruitcake had its origins in Dickensian England, the earliest fruitcakes were made in ancient Rome. Traditional Christmas fruitcake grew more popular in Europe with sugar imports from the American colonies. Cooks discovered that high concentrations of sugar could preserve fruits, creating an excess of candied fruit which they used in cake, hence "fruit cake."

Prep time: 10 minutes
Bake time: 35-40 minutes
Makes about 3-5 dozen slices


Get the full Fruitcake Shortbread recipe… and check out our Shortbread Pinterest board for more easy shortbread recipes.
---
12 Days of Christmas Cookies, Day 6: Fruit Bars - Dates, Nuts, and Other Good Stuff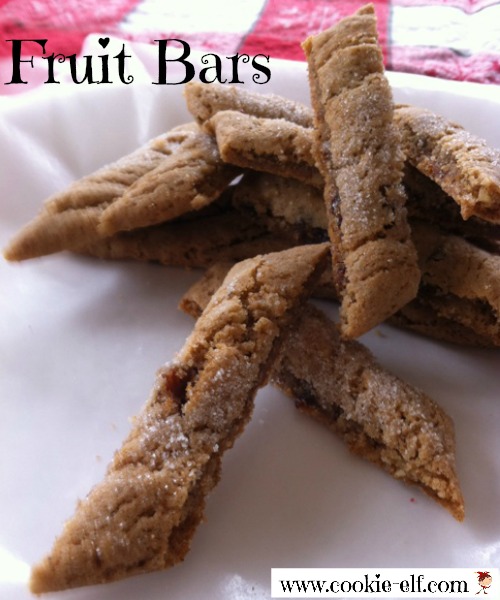 Image: The Cookie Elf

Fruit Bars are filled with homey spices, dates, and walnuts … a perfect holiday cookie.

It's unique in that it is both a rolled cookie and a bar cookie. The chilled dough is rolled into logs. Then after baking, it is sliced into bars.

They're a terrific Christmas cookie recipe not only because they are delicious, but for their unusual shape. Fruit Bars are different from cut-outs, rolled balls, press cookies, and even traditional bar cookies because they are oblong. They add interest (and flavor) to a Christmas cookie tray.

In addition, this recipe makes a LOT of cookies. So if you're baking for a crowd, for a party, or for a cookie exchange, use this recipe to finish up quickly.

Prep time: 30 minutes
Bake time: 15-18 minutes
Makes about 8-10 dozen sliced cookies



Get the full Fruit Bars recipe

… and check out our Bar Cookies Pinterest board for more easy bar cookie recipes you can make for Christmas.
---
The Un-Santa Book: Plan Now for a Meaningful Christmas
The Un-Santa Book is packed with ideas for celebrating the Christmas season in fun ways that teach about the gift of God's Son.

It's filled with fun, meaningful Christmas activities for your kids, homeschool group, class, or event - with reproducibles!

You can even use the book to host a complete festival or sponsor a unique holiday event or simply doing Christmas crafts with kids during this special time of year. Good gift idea, too! Learn more.
---
Cookie Baking Tip: Why Soak Dried Fruit When Adding to Cookie Dough?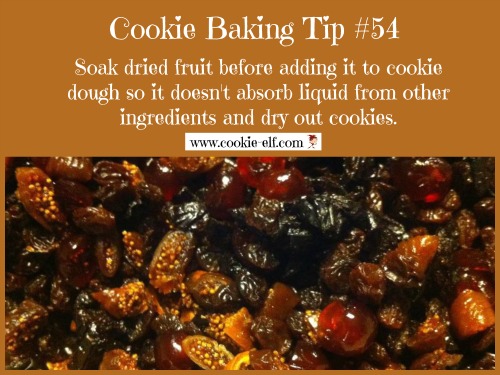 Image: The Cookie Elf
See more helpful cookie baking tips on The Elf's Baking Tips Pinterest Board .
---
Great Stocking Stuffer Ideas
More Easy Shortbread Recipes

That's it for now. See you next time!

Happy baking,

Kathy, The Cookie Elf
www.cookie-elf.com