Dear Cookie Elf reader,



Welcome back to The Cookie Elf File … and to easy cookie recipes! About once a week, The Elf sends you cookie recipes, cookie trivia and simple baking tips to give you easy ways to bake homemade cookies.
---
Get Bowled Over
See the most fun and most popular mixing bowls used by bakers like you. Take a look.

---
The Cookie Elf is on Pinterest
Join us on Pinterest! Browse our 80+ boards (and growing) for cookie inspiration and simple baking tips, like chocolate chip cookies, no bake cookies, cookie gift baskets -- even special treats like gluten-free cookies! Happy pinning!
---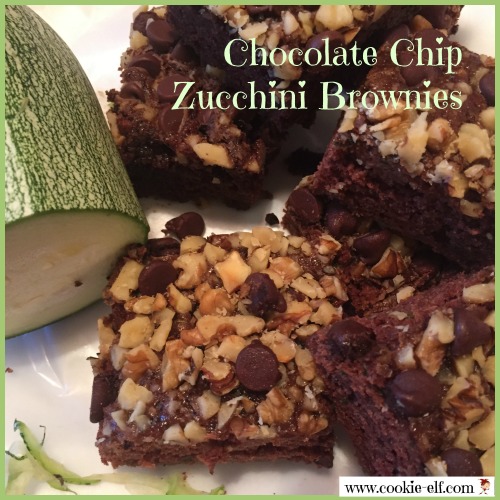 Image: The Cookie Elf

Chocolate Chip Zucchini Brownies are the perfect answer to the perennial question of what to do when your summer garden (or your neighbor's garden) produces too many zucchinis.

It's a super-easy cookie recipe and it looks good, thanks to the chocolate chips and nuts you sprinkle on top. That means you save yourself the step of frosting.

The brownies are thick and cake-like. In fact, you can easily convert the recipe to a sheet cake by using a 13 x 9 pan instead of a jelly roll pan.

Extra tip: these brownies freeze well. Make a few extra batches to use up zucchini, store them in airtight containers in the freezer, and label them. You'll be glad you did when it comes time to make school lunches.

Prep time: about 15 minutes
Bake time: 25-30 minutes, divided
Makes about 35 brownies

Get the full recipe for Chocolate Chip Zucchini Brownies … and check out more easy brownie recipes on our Brownies Pinterest Board.
---
Now: Great Clearance Deals for Kitchen and Home for Cookie Elf Readers
Check out the Home & Kitchen Outlet at Gardener's Supply. This is the GS page where you can get fun and unique items for your home and garden at clearance prices. It's so much fun to browse around. And if you find something at a bargain price - well, go for it!

Plus, they donate 8% of their profits to home and garden improvement programs.

But apart from all that good stuff, their Home & Kitchen Outlet has great deals. Check them out here.
---
Cookie Baking Tip: Three Ways to Drain Zucchini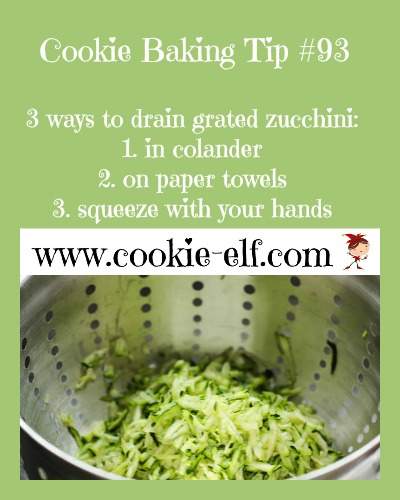 Image: The Cookie Elf
See more helpful cookie baking tips on The Elf's Baking Tips Pinterest Board .
---
Grate It and Drain It In Style
More Easy Cookie Recipes for Summer

That's it for now. See you next time!

Happy baking,

Kathy, The Cookie Elf
www.cookie-elf.com