Dear Cookie Elf reader,



Welcome back to The Cookie Elf File … and to easy cookie recipes! About once a week, The Elf sends you cookie recipes, cookie trivia and simple baking tips to give you easy ways to bake homemade cookies.
---
Be a Cut Up!
Cutting boards: you use them every day. Make sure yours is up to the task. Browse all kinds of long-lasting cutting boards of all types – at best prices. Take a look.

---
The Cookie Elf is on Pinterest
Join us on Pinterest! Browse our 80+ boards (and growing) for cookie inspiration and simple baking tips, like chocolate chip cookies, no bake cookies, cookie gift baskets -- even special treats like gluten-free cookies! Happy pinning!
---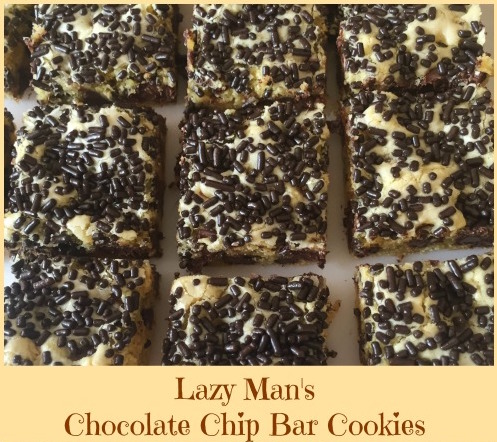 Image: The Cookie Elf
Lazy Man's Chocolate Chip Bar Cookies recipe is so amazing. It's the ultimate way to bake cookies using cake mix!
You may see similar recipes called "Lazy Cookies" or "Lazy Bars" floating around … and it's easy to see why. The cookies taste great, like a soft-textured chocolate chip cookie, but in a bar. But they are so, so, SO easy. Dump 4 ingredients together with a spoon and plop the whole bit into the oven.
It's so quick and mess-free – a perfect treat to make at the last minute. And you probably already have all the ingredients in your cupboard, too.
Prep time: 5 minutes
Bake time: 18-20 minutes
Makes about 35 bars

Get the full recipe for Lazy Man's Chocolate Chip Bar Cookies – and be sure to check out more easy bar cookie recipe ideas on our Bar Cookies Pinterest board.
---
FREE! "How to Bake" from The Prepared Pantry
Get your free copy of the FREE "How to Bake" e-book from our good friends at The Prepared Pantry.

In this 433-page professional baking book, you'll get baking secrets from the pros.

How to Bake is Amazon's Book of the Month! It's by Dennis Weaver, the baking brains behind The Prepared Pantry, a family-owned business that sells baking mixes, kitchen tools, baking ingredients, and gourmet foods. The Prepared Pantry is the largest seller of bread mixes on the internet, so you know you're getting info from a pro. You'll get ...
8 full chapters - get one each week
a reference book, cookbook, and textbook rolled into one
Plus, the eBook is yours at no cost. Learn more here.
---
Cookie Baking Tip: How to Melt Butter in Microwave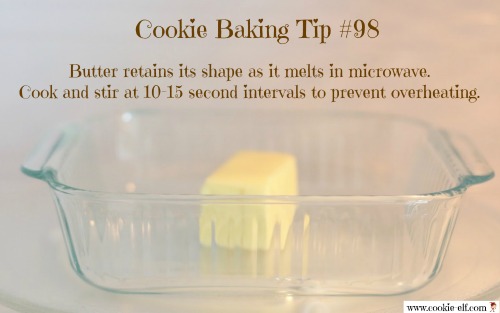 Image: The Cookie Elf
See more helpful cookie baking tips on The Elf's Baking Tips Pinterest Board .
---
Fall Fun in the Kitchen
More Easy Chocolate Chip Bar Cookie Recipes

That's it for now. See you next time!

Happy baking,

Kathy, The Cookie Elf
www.cookie-elf.com