Dear Cookie Elf reader,



Welcome back to The Cookie Elf File … and to easy cookie recipes! About once a week, The Elf sends you cookie recipes, cookie trivia and simple baking tips to give you easy ways to bake homemade cookies.
---
Yes, Some Things in Life Are Still Free!
Download best-selling free cookbooks on Kindle to save you time and money. Take a look.

---
The Cookie Elf is on Pinterest
Join us on Pinterest! Browse our 80+ boards (and growing) for cookie inspiration and simple baking tips, like chocolate chip cookies, no bake cookies, cookie gift baskets -- even special treats like gluten-free cookies! Happy pinning!
---
Cookie Recipe of the Week: Millionaire Shortbread Recipe - Amazing Bar Cookie That Doesn't Break the Bank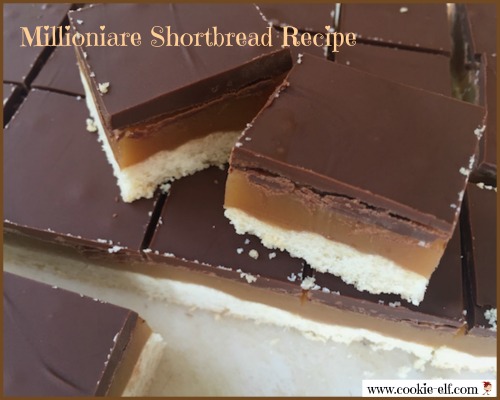 Image: The Cookie Elf

Millionaire Shortbread Recipe: the jury is out as to how these delectables got their name, but one thing is certain. They are luxuriously R-I-C-H.

The bars have been traced to a Caramel Shortbread recipe in a 1970 issue of The Australian Women's Weekly, then dubbed "Millionaire's Shortbread" in Scotland in 1990.

You can find dozens of variations for this amazing bar cookie also posing as Caramel Shortcake, Caramel Slices, Caramel Squares, Millionaires' Slices …

The cookies double as a layer bar with a shortbread base (using the traditional ingredient ratio of one part sugar, two parts butter, and three parts white flour), followed by a soft caramel filling and a milk chocolate topping. Three different textures – crunchy base, smooth center, and crisp top – are not just unique. They're awesome.

The version here is easy and simple. And you can afford to make them, whether or not you're a millionaire.

Prep time: 5 minutes
Bake time: 18-20 minutes
Set time: 30 minutesMakes about 3-4 dozen


Get the full recipe for Millionaire Shortbread Recipe – and be sure to check out more easy shortbread recipes on our Shortbread Pinterest board.
---
FREE! "How to Bake" from The Prepared Pantry
Get your free copy of the FREE "How to Bake" e-book from our good friends at The Prepared Pantry.

In this 433-page professional baking book, you'll get baking secrets from the pros.

How to Bake is Amazon's Book of the Month! It's by Dennis Weaver, the baking brains behind The Prepared Pantry, a family-owned business that sells baking mixes, kitchen tools, baking ingredients, and gourmet foods. The Prepared Pantry is the largest seller of bread mixes on the internet, so you know you're getting info from a pro. You'll get ...
8 full chapters - get one each week
a reference book, cookbook, and textbook rolled into one
Plus, the eBook is yours at no cost. Learn more here.
---
Cookie Baking Tip: Check Your Ingredient Labels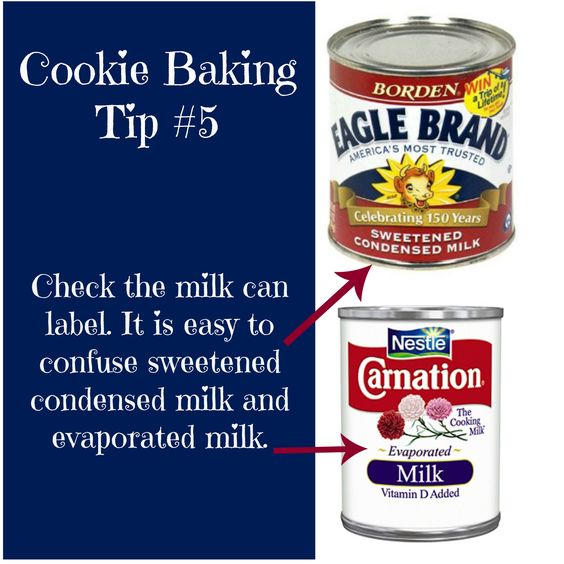 Image: The Cookie Elf
See more helpful cookie baking tips on The Elf's Baking Tips Pinterest Board .
---
Long May You Bake!
More Easy Layer Bar Cookie Recipes

That's it for now. See you next time!

Happy baking,

Kathy, The Cookie Elf
www.cookie-elf.com