Dear Cookie Elf reader,



Welcome back to The Cookie Elf File! About once a week, The Elf sends you an easy cookie recipe and simple baking tips for baking homemade cookies.
The Cookie Elf is on Pinterest!
Join us on Pinterest! Browse our 80+ boards (and growing) for cookie inspiration and simple baking tips, like chocolate chip cookies, no bake cookies, cookie gift baskets -- even special treats like gluten-free cookies! Happy pinning!
Feature: Chocolate Chip Oatmeal Caramel Squares – Just 7 Ingredients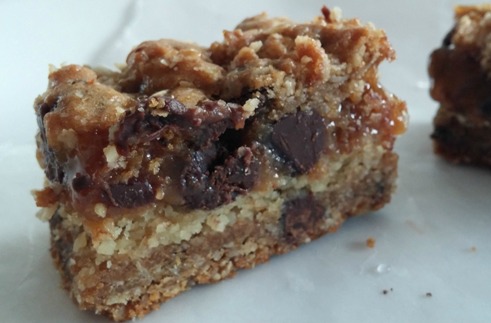 Image: The Cookie Elf

Warm, rich chocolate, hearty oats, oozing caramel: Chocolate Chip Oatmeal Caramel Squares have it all.

If the ingredients were not enough to entice you as a comfort food, this easy cookie recipe is even more appealing in that it is simple to make. The recipe calls for just 7 ingredients – and one of them is pre-made chocolate chip cookie dough.

Additional chocolate chips are sprinkled on this base, making this recipe not only easy but also a favorite for chocolate chip lovers.

Prep time: about 35-40 minutes, including baking
Bake time: 35-37 minutes, divided
Makes 16-25 squares

Get the full recipe for Chocolate Chip Oatmeal Caramel Squares. And you can see other chocolate chip cookie recipe variations on our Chocolate Chip Cookies Pinterest Board.
---
Cookie Baking Tip of the Week: Recipe Substitutions for Chocolate Chips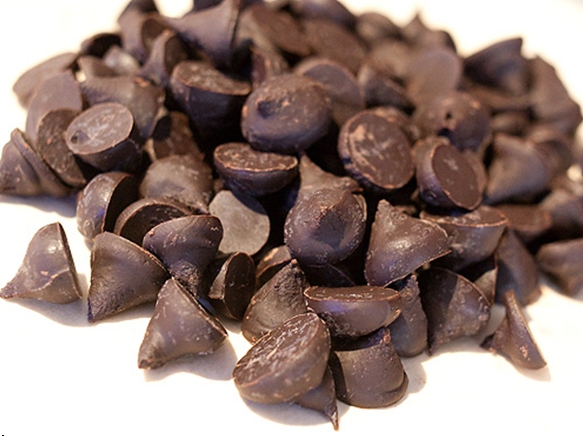 Image: Assorted Nonsense

Chocolate chip substitutions in cookie dough can be a cookie lifesaver. Nothing is more frustrating for The Elf (and other Cookie Elves) than to be ready to bake a cookie recipe with chocolate chips, only to find the chips missing from the cupboard. Here are some questions and answers about substituting chocolate chips in cookie recipes.
Q. Can I substitute chopped chocolate candy bars for chocolate chips?
Yes, substitute them in equal measurements.
Q. Can I substitute semi-sweet baking bars for semi-sweet chocolate chips in cookie recipes?
Yes. Know that you need to chop the baking bars before adding the pieces to the recipe, whereas chocolate chips are simply added to the cookie dough directly. Also, substitute equal weight measures. For instance, if a recipe calls for 12 ounces of semi-sweet chocolate chips, then substitute 12 ounces of chopped semi-sweet baking bars.
Q. Can I substitute milk chocolate chips or dark chocolate chips for semi-sweet chocolate chips in cookie recipes? Yes. Just be aware of the differences in taste in the types of chocolate. Substituting a different kind of chocolate will slightly alter the cookie's flavor.
See more helpful and interesting baking tips for Chocolate Substitutions in Cookies from The Elf.
---
More Easy Cookie Recipes with Chocolate Chips

That's it for now. See you next time!

Happy baking,

The Cookie Elf
www.cookie-elf.com