Dear Cookie Elf reader,



Welcome back to The Cookie Elf File … and to easy cookie recipes! About once a week, The Elf sends you cookie recipes, cookie trivia and simple baking tips to make baking cookies easy and fun for your family.
---
Look What You Can Do With This FREE Brownie Mix – Just Use This Code
Our friends at Prepared Pantry have some easy step by step directions for making brownie pops. It's a perfect winter day indoor activity!
Check out the instructions here.
You can make brownie pops in as little as 15 minutes. Simply roll the brownies into a ball, insert sticks, and dip them in chocolate.
Or make square brownies on a stick. Bake the brownies, cut them, insert the sticks and then freeze. Afterwards, dip the brownies in melted chocolate or frosting. (Freezing makes them hold together while dipping.) Then thaw to serve.
It's a fun activity to do with the kids.
PLUS … Prepared Pantry will give you a brownie mix for FREE when you add the code ZBRN at checkout.
Browse more of The Prepared Pantry's weekly sales, too. Here are this week's specials. Have fun checking them out!
---
The Cookie Elf is on Pinterest
Join us on Pinterest! Browse our 80+ boards (and growing) for cookie inspiration and simple baking tips, like chocolate chip cookies, no bake cookies, cookie gift baskets -- even special treats like gluten-free cookies! Happy pinning!
---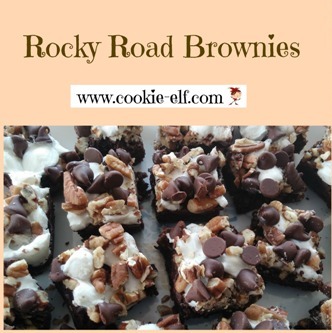 Image: The Cookie Elf

Rocky Road Brownies are just too easy and too good.

Just a brownie mix and a few toppings and – presto! – you have a bakery-style brownie that will be the heartthrob of chocoholics you know.

The "Rocky Road" flavor's origins lay in the ice cream industry. William Dreyer, partner to Joseph Edy (of Edy's Grand Ice Cream), is credited with inventing the flavor in 1929.

Dreyer dressed up a dish of chocolate ice cream with chopped nuts and marshmallows cut with his wife's sewing shears. The resulting Rocky Road became Edy's Ice Cream's first blockbuster ice cream flavor.

Since then, the combination has been transferred to other desserts, as here, with runaway results. Try these amazing brownies for yourself and see.

Prep time: 10 minutes
Bake time: 30-40 minutes
Makes 25 bars

Get the full recipe for Rocky Road Brownies … and discover other shortbread variations on The Elf's Brownies Pinterest Board.
---
Easter Fun with Kids, Families, Neighbors, Friends
Easter is coming! How will you and your family celebrate?
The Un-Bunny Book answers that question. It's packed with fun activities, games, crafts, snacks, and stories that are based on Easter's true meaning.
Use it for kids ages 3-12 at home, school, church, in the community, or with your homeschool group. It's perfect when you're trying to social distance, too, because you can conduct activities outside.
The Un- Bunny Book shows kids and parents that Jesus' resurrection is something to celebrate. With reproducibles, too!
Learn more about The Un-Bunny Book here.
---
Cookie Baking Tip: How to Keep Marshmallows Fresh
Image: The Cookie Elf
In the freezer
In the refrigerator
With a piece of bread in a sealed bag
Get all the details about how to keep marshmallows fresh.

See more helpful cookie baking tips on The Elf's Baking Tips Pinterest Board .
---
Don't Just Scrape By!
More Easy Brownie Recipes

That's it for now. See you next time!

Happy baking,

Kathy, The Cookie Elf
www.cookie-elf.com