Dear Cookie Elf reader,



Welcome back to The Cookie Elf File! About once a week, The Elf sends you an easy cookie recipe and simple baking tips for baking homemade cookies.
The Cookie Elf is on Pinterest!
Join us on Pinterest! Browse our 80+ boards (and growing) for cookie inspiration and simple baking tips, like chocolate chip cookies, no bake cookies, cookie gift baskets -- even special treats like gluten-free cookies! Happy pinning!
Feature: Pecan Praline Blondies: Rich Bar Cookie – Just 7 Ingredients!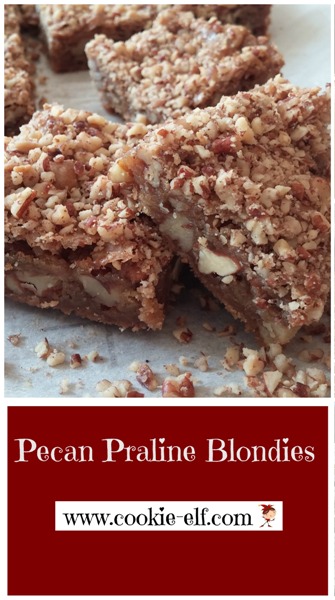 Image: The Cookie Elf
Pecan Praline Blondies are a simple bar cookie recipe. The bars call for just 7 ingredients. The dough is mixed together entirely on the stovetop, making for an easy clean up.
But don't let the recipe's simplicity fool you. These rich, buttery bars will become a favorite if you love pecan pie, pralines, or anything caramel. The recipe calls for brown sugar as its main flavoring – hence the bars' classification as a "blondie" – rather than the customary cocoa or melted chocolate which typifies brownies. The result is a rich caramel- and-nut bar with dense texture that comes from cooking brown sugar and butter together, a flavor long associated with praline candy.
Prep time: 10 minutes
Bake time: 25-30 minutes
Makes 35 bars
Get the full recipe for Pecan Praline Blondies and get more brownie and blondie inspiration on The Elf's Brownies Pinterest Board.
---
Cookie Baking Tip of the Week: Hints for Chopping Pecans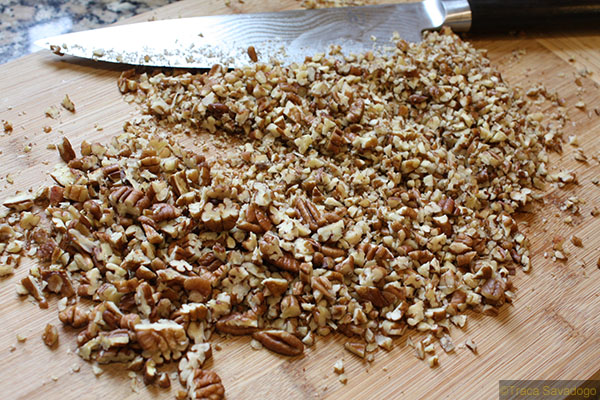 Image: Seattle Backpackers Magazine
It's easy to prepare pecans for recipes like Pecan Praline Brownies – even when the recipe calls for pecans in different consistencies.
In a food processor. Place pecans in the processor bowl and pulse processor until pecans are the texture you wish – coarse, medium, or fine.
With the rolling pin.Pour pecans in a plastic bag. Use a rolling pin or large can to crush pecans.
On a cutting board. Spread pecans on a large cutting board. Use a large cleaver to chop pecans until they are they consistency you desire.
See more helpful baking tips on The Elf's Baking Tips Pinterest Board .
---
More Easy Blondie and Brownie Recipes from The Elf

That's it for now. See you next time!

Happy baking,

The Cookie Elf
www.cookie-elf.com