Dear Cookie Elf reader,



Welcome back to The Cookie Elf File … and to easy cookie recipes! About once a week, The Elf sends you cookie recipes, cookie trivia and simple baking tips to make baking cookies easy and fun for your family.

Apples are in season, which is perfect excuse to make Apple Fudge Brownies. Enjoy!
---
Ladies and Gents, Get Your Cookie Decorations Ready
Browse an amazing selection of sprinkles, colored sugars, icing, and cookie decorations at best prices so you're ready to bake at the holidays. Have fun!.

---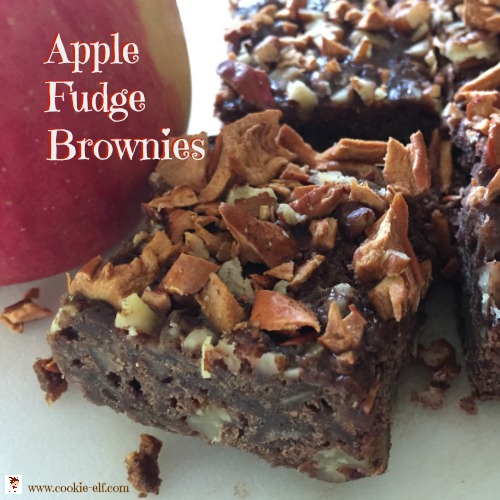 Image: The Cookie Elf

Apple Fudge Brownies are an easy way to use apples, especially when you have a couple of slightly shriveled apples sitting in the fruit bowl that no one wants to eat.

They're too old or even mealy.

That attitude can change in a hurry. I've seen it in my own house. Grate a couple of apples, throw them into the brownie batter and all of a sudden, your family members are nicey-nicey.

Of course you can use crisp, fresh apples in this recipe. And I like to chop dried apples and sprinkle them on the top of the brownies, too.

Either way, this recipe is a quick fix.

Prep time: 10 minutes
Bake time: 28-32 minutes
Makes about 35 brownies


Get the full recipe for Apple Fudge Brownies … and be sure to check out our Brownies Pinterest board for more brownie fun and inspiration.
---
Cookie Baking Tip: How Finely Should I Chop Apples?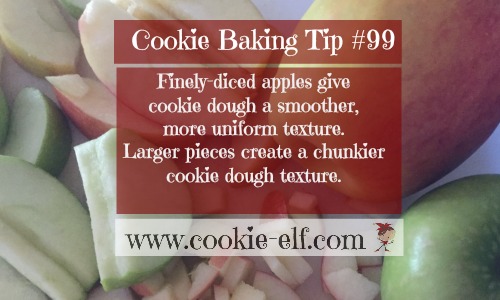 Image: The Cookie Elf
See more helpful cookie baking tips on The Elf's Baking Tips Pinterest Board .
---
Fine Chops
More Easy Cookie Recipes with Fruit

That's it for now. See you next time!

Happy baking,

Kathy, The Cookie Elf
www.cookie-elf.com