Dear Cookie Elf reader,



Welcome back to The Cookie Elf File … and to easy cookie recipes! About once a week, The Elf sends you cookie recipes, cookie trivia and simple baking tips to give you easy ways to bake homemade cookies.

Easy as pie? Nope. EASIER. Try these Pumpkin Pie Bar Cookies this Thanksgiving. Enjoy!
---
Starting next week ...

Easy Dessert Recipes for the Holidays – Free
If you're looking for easy dessert recipes for the holidays, look no further! 20+ easy holiday recipes guaranteed to please – and the price is right, too: free with Kindle Unlimited or just $2.99.
Read about it here.

---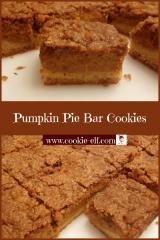 Image: The Cookie Elf

Pumpkin Pie Bar Cookies taste just like pumpkin pie, but are far easier to make and more portable.

Like pie, the recipe uses pumpkin pie filling, but in place of a fussy pie crust is a simple cake mix base instead.

And like other cake mix cookie recipes, these bars can be mixed together quickly. The cake mix makes putting the bars together easy because the mix saves you steps. But the bars are more than a good substitute for traditional pumpkin pie.

They are simply good. All on their own.

Prep time: 15 minutes
Bake time: 45-50 minutes, divided
Makes 35 bars

Get the full Pumpkin Pie Bar Cookies… and check out our Cake Mix Cookies Pinterest board for more easy cake mix cookie recipes.
---
Cookie Baking Tip: How to Substitute Pumpkin Pie Filling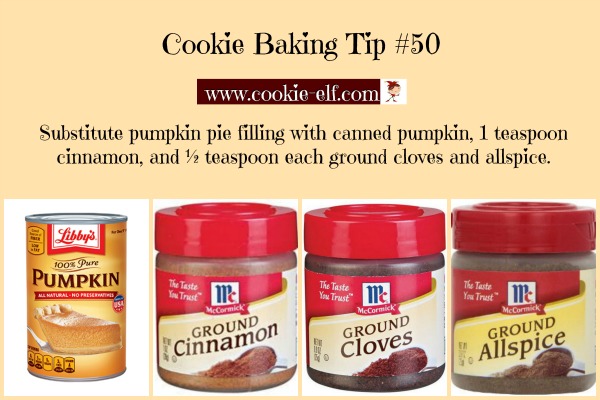 Image: The Cookie Elf
See more helpful cookie baking tips on The Elf's Baking Tips Pinterest Board .
---
Easier Ways to Cut Bars
More Easy Cookie Recipes for Thanksgiving

That's it for now. See you next time!

Happy baking,

Kathy, The Cookie Elf
www.cookie-elf.com