Dear Cookie Elf reader,



Welcome back to The Cookie Elf File … and to easy cookie recipes! Now as the holidays get close it's time for our traditional 12 Days of Easy Christmas Cookies recipes.

They're so much easier than you think – you can make your own adorable gingerbread men with this Christmas Gingerbread Cookie recipe. Enjoy!
---

Cookie Decorating Essentials
Cookie decorating kits, extra icing tips, meringue powder, icing bags, gel food color … there's lots of fun cookie decorating essentials to browse and choose to decorate cookies easily. Great gifts, too!
---
Feature: 12 Days of Easy Christmas Cookies #8 - Christmas Gingerbread Cookie Recipe - Easier Than You Think!
Image: The Cookie Elf
This Christmas Gingerbread Cookie recipe is a classic. You can use it to make simple ginger bread cookies or parts of a gingerbread house.
Gingerbread cookies are a lot like molasses drop cookies in taste, but what makes the difference is that with Christmas Gingerbread Cookies, you roll the cookie dough and use cookie cutters to create cookie shapes. Then take a bit of royal icing and pipe on a few decorations. Don't feel you need to stick to the usual gingerbread men or women. Try other cookie cutter shapes, too!
Prep time: 30 minutes
Bake time: 9-10 minutes
Makes about 2 dozen cookies, 3 inches high


Get the full recipe for Christmas Gingerbread Cookise … and check out more Gingerbread Cookies on our Pinterest board.
---
Cookie Baking Tip: Tip for Making Christmas Cookie Icing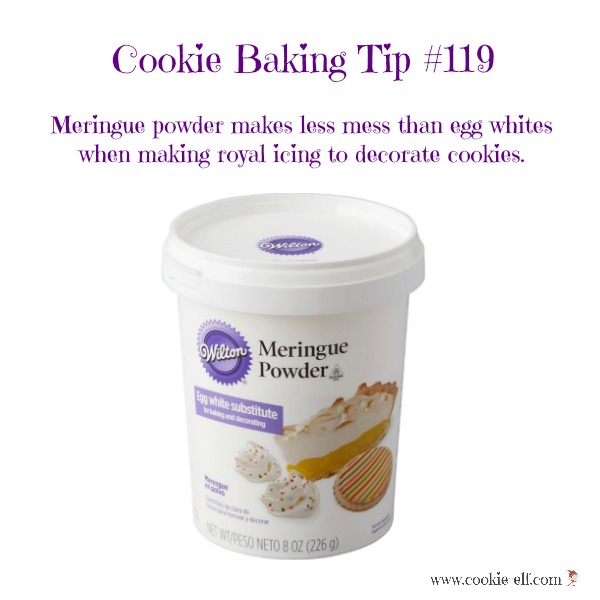 Image: The Cookie Elf
See more helpful cookie baking tips on The Elf's Baking Tips Pinterest Board .
---
Plan Now for a Meaningful Christmas
The Un-Santa Book is packed with ideas for celebrating the Christmas season in fun ways that teach about the gift of God's Son.
It's filled with fun, meaningful Christmas activities for your kids, homeschool group, class, or event - with reproducibles!
You can even use the book to host a complete festival or sponsor a unique holiday event or simply doing Christmas crafts with kids during this special time of year. Good gift idea, too! Learn more.
---
How-Tos and Gear for Decorating Cookies
---
More about Decorating Christmas Cookies

That's it for now. See you next time!

Happy baking,

Kathy, The Cookie Elf
www.cookie-elf.com