Dear Cookie Elf reader,



Welcome back to The Cookie Elf File … and to easy cookie recipes! About once a week, The Elf sends you cookie recipes, cookie trivia, offers, and simple baking tips to give you easy ways to bake homemade cookies.

---
Get Panned
See the best-selling and most popular cookie pans used by bakers like you. Take a look.

---
The Cookie Elf is on Pinterest!
Join us on Pinterest! Browse our 80+ boards (and growing) for cookie inspiration and simple baking tips, like chocolate chip cookies, no bake cookies, cookie gift baskets -- even special treats like gluten-free cookies! Happy pinning!
---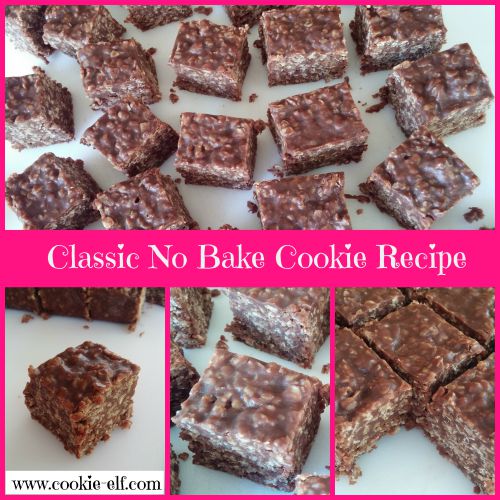 Image: The Cookie Elf

This classic No Bake Cookie Recipeis the granddaddy of all no bakes.

If you're from the southeast (or more specifically Appalachia), you call them Preacher Cookies. You could put them together in just a few minutes and be ready to serve them in the time you spotted the preacher coming up the mountain until the moment he knocked at your door.

If you're from Texas, you may call them Poodgies (don't know why - does anyone out there have a clue?). If you live on a farm, you may call them Cow Patties (no explanation needed.)

They're simple. They're quick. They call for basic ingredients you have in your cupboard right now.

Prep time: 10 minutes
Chilling time (optional): 15-30 minutes
Makes about 16-25 bars or drop cookies


Get the full No Bake Cookie Recipe … and check out our No Bake Cookies Pinterest board for more cookie inspiration.
---
Cookie Baking Tip: What's a Rolling Boil?
Today's No Bake Cookie recipe calls for a rolling boil ... but that doesn't mean you're doing somersaults across the kitchen floor while the butter melts.
Image: The Cookie Elf
See more helpful cookie baking tips on The Elf's Baking Tips Pinterest Board .
---
Use These When You Make No Bake Cookies
More Easy No Bake Cookie Recipes

That's it for now. See you next time!
Happy baking,
The Cookie Elf
www.cookie-elf.com