Dear Cookie Elf reader,



Welcome back to The Cookie Elf File … and to easy cookie recipes! About once a week, The Elf sends you cookie recipes, cookie trivia and simple baking tips to give you easy ways to bake homemade cookies.
---
Personalized Gifts for Kids, Grads, Dads
Make your own books, stickers, placemats, coloring books, party favors … perfect for gifts. Save more when you use the code FREESHIPPING at checkout.
---
The Cookie Elf is on Pinterest!
Join us on Pinterest! Browse our 80+ boards (and growing) for cookie inspiration and simple baking tips, like chocolate chip cookies, no bake cookies, cookie gift baskets -- even special treats like gluten-free cookies! Happy pinning!
---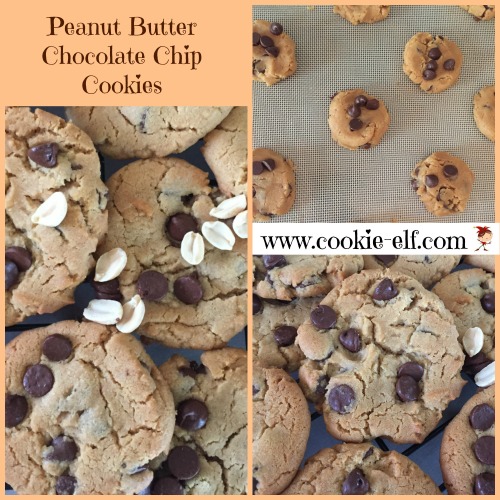 Image: The Cookie Elf

In a delicious twist, this Peanut Butter Chocolate Chip Cookie recipecombines two great cookie flavors: chocolate chips and peanut butter.

While most peanut butter cookies are formed into balls and then pressed with fork tines, this cookie recipe is unique in that the batter is soft enough to be prepared as a drop cookie. Even so, this recipe gives you the crisp texture most often connected to peanut butter cookies. (If you prefer super-soft cookies in this flavor combination, try this recipe's twin, Chocolate Chip Peanut Butter Cookies. The main differences between the two are the leavening and the oven temperature.)

By the way, this recipe doubles easily! Good to know so you can make extras for the freezer (or for a cookie binge.)

Prep time: about 15 minutes
Bake time: 12-15 minutes
Makes 2-2 ½ dozen cookies

Get the full recipe for Peanut Butter Chocolate Chip Cookies … and check out all kinds of other peanut butter cookie recipes on our Peanut Butter Cookies Pinterest Board.
---
Sticker Fun for Summer
---
Cookie Baking Tip: Soft vs. Crunchy Peanut Butter Cookies