Dear Cookie Elf reader,



Welcome back to The Cookie Elf File … and to easy cookie recipes! About once a week, The Elf sends you cookie recipes, cookie trivia and simple baking tips to give you easy ways to bake homemade cookies.
---
Slice, Chop, Dice, Cut – For Less
If your kitchen knives aren't cutting it, get some that will – without carving a hole in your budget. Browse all kinds of kitchen knives -- singles and sets.

---
The Cookie Elf is on Pinterest!
Join us on Pinterest! Browse our 80+ boards (and growing) for cookie inspiration and simple baking tips, like chocolate chip cookies, no bake cookies, cookie gift baskets -- even special treats like gluten-free cookies! Happy pinning!
---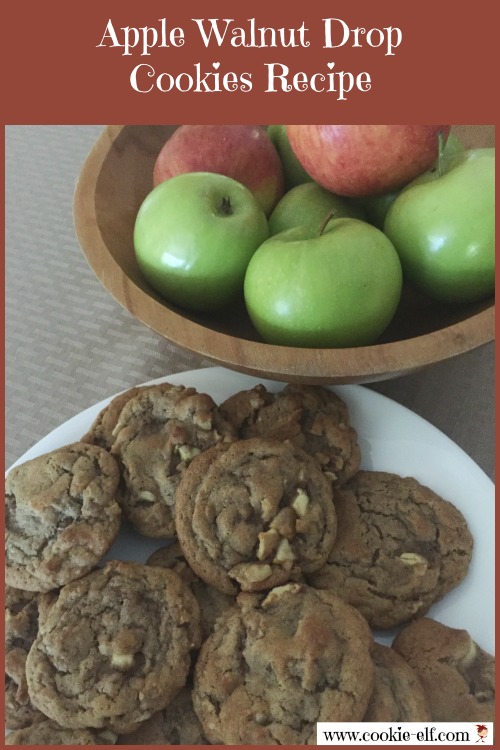 Image: The Cookie Elf

This easy Apple Walnut Drop Cookies recipe is a soft, chewy version of apple cake or even apple pie … they're like eating a warm, fragrant hug.

One reason they're so easy is because the dough is no-fail. It's one of those recipes that works every time, thanks to the brown sugar that softens the texture, the baking soda that leaves crinkles on the cookie surfaces, and of course the warm autumn flavors of apples and cinnamon.

Speaking of apples, you can use any kind – a boon if you want to use those with blemishes – although tart varieties give the cookies even more flavor. You need just one apple for the recipe if you dice it finely or two if you eliminate the walnuts. And if you want to use up all your extra apples you can make extra batches of the recipe because these cookies freeze well.

Prep time: 10 minutes
Bake time: 8-10 minutes
Makes about 4 dozen


Get the full Apple Walnut Drop Cookies recipe – and be sure to check out more easy drop cookie recipes on our Drop Cookies Pinterest board.
---
Cookie Baking Tip: Chop, Chop, Chop!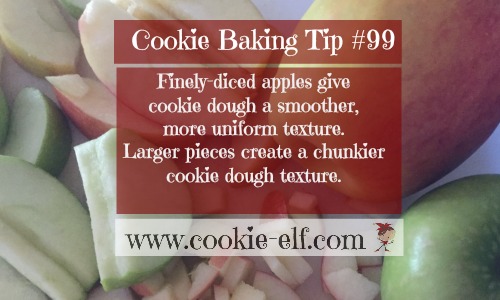 Image: The Cookie Elf
See more helpful cookie baking tips on The Elf's Baking Tips Pinterest Board .
---
Bake Some Fun This Fall
More Easy Drop Cookie Recipes

That's it for now. See you next time!
Happy baking,
Kathy, The Cookie Elf
www.cookie-elf.com