Dear Cookie Elf reader,



Welcome back to The Cookie Elf File … and to easy cookie recipes! About once a week, The Elf sends you cookie recipes, cookie trivia and simple baking tips to give you easy ways to bake homemade cookies.

Jump in to our 12 Days of Simple Christmas Cookie Recipes with Day 10 and a fun, scrumptious cookie recipe that you can find on the back-of-the-bag of toffee bits.
---
Cookie Jars Are Not Just for Christmas Cookies
They're adorable! See the best-selling and most popular cookie jars for the holidays … and for afterwards. You can use them to store things other than cookies, too. Take a look.

---
The Cookie Elf is on Pinterest!
Join us on Pinterest! Browse our 80+ boards (and growing) for cookie inspiration and simple baking tips, like chocolate chip cookies, no bake cookies, cookie gift baskets -- even special treats like gluten-free cookies! Happy pinning!
---
12 Days of Christmas Cookies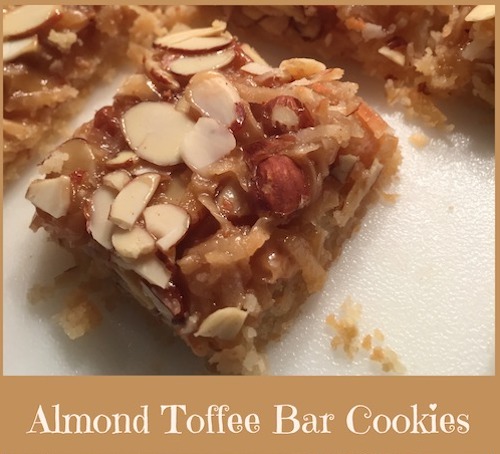 Image: The Cookie Elf

Almond Toffee Bar Cookies are an absolutely luscious layer bar cookie – one that looks incredibly elegant but is super easy to make, with just 7 ingredients.

You can find cookie recipe jewels like this one if you carefully study product packaging. If you know where to find them, these "Back of the Bag" or "Back of the Box" recipes let you score big. They are created for specific products by manufacturers. For instance, confectionary giant Hershey's developed this recipe, sometimes known as Chewy Toffee Almond Bars (or other almond-toffee names) as a vehicle for its popular Heath Bits O' Brickle Toffee Bits.

Here's a secret: you can use any kind of toffee in this recipe – even homemade. Simply chop it first to allow you to melt it evenly.

Prep time: 15-20 minutes
Bake time: 30-35 minutes, divided
Makes about 35 bars



Get the full recipe for Almond Toffee Bar Cookies… and check out more Bar Cookies on our Pinterest board.
---
Cookie Baking Tip: Why Back-Of-The-Bag Recipes are So Good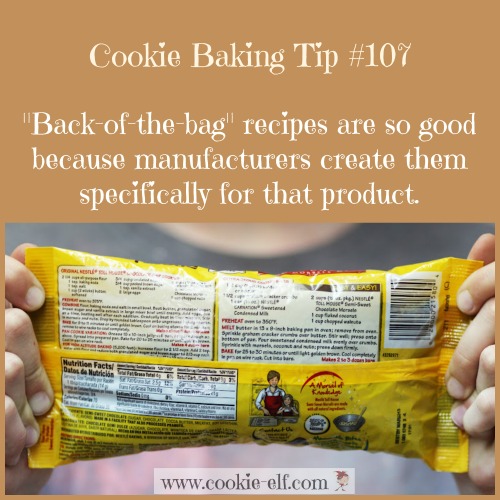 Image: The Cookie Elf
See more helpful cookie baking tips on The Elf's Baking Tips Pinterest Board .
---
Last Minute Gifts
For you and for those on your list!



More Simple Christmas Cookie Recipes with Toffee

That's it for now. See you next time!

Happy baking,

Kathy, The Cookie Elf
www.cookie-elf.com