Dear Cookie Elf reader,



Welcome back to The Cookie Elf File … and to easy cookie recipes! About once a week, The Elf sends you cookie recipes, cookie trivia and simple baking tips to save you time, mess, and money so you can bake homemade cookies.

Just 6 ingredients and no stove needed for No-Bake Samoa Cookies - a knock-off of the classic Girl Scout cookie recipe. Enjoy!
---
Are You Freezing Yet?
Plan now for those busy lunch-packing days coming up in the fall: bake cookies and freeze them ahead of time. Browse plastic and glass freezer containers to see what can work for you. Take a look.

---
The Cookie Elf is on Pinterest
Join us on Pinterest! Browse our 80+ boards (and growing) for cookie inspiration and simple baking tips, like chocolate chip cookies, no bake cookies, cookie gift baskets -- even special treats like gluten-free cookies! Happy pinning!
---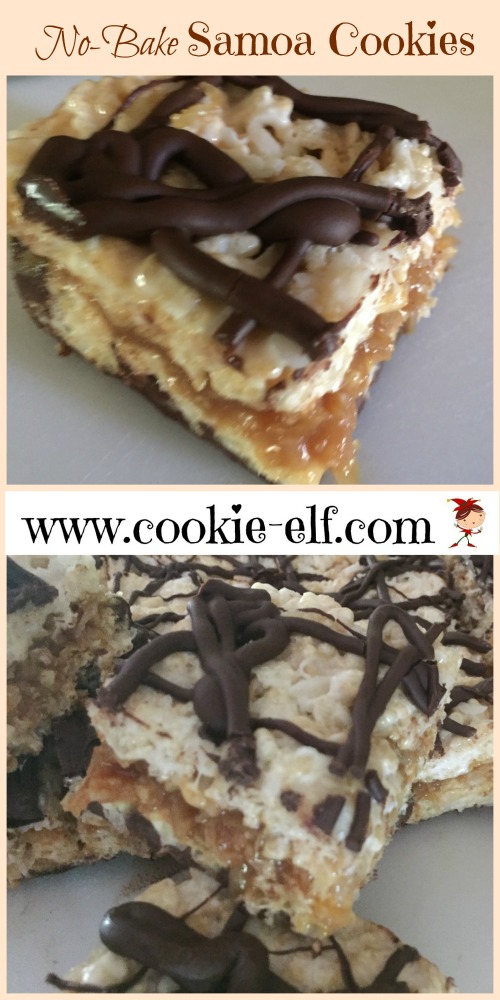 Image: The Cookie Elf

No-Bake Samoa Cookies No-Bake Samoa Cookies are a knock off of the iconic Girl Scout Samoas, introduced in 1975 and second in popularity only to Thin Mints.

How did these caramel-coated, coconut-sprinkled, chocolate-drizzled yumsters get their name? There are at least two theories.

The first presumes the cookies are a namesake for the Polynesian island of Samoa. Its tropical climate ensures that coconut – one of the cookie's ingredients that ensure its distinctive taste – is one of its top exports.

Another theory taps into the colloquial "S'More," an abbreviation for "give me some more of those yummy caramel-coconut-chocolate delights." But you and I both know that "S'More" is already well-represented in Cookiedom, and in fact the Girl Scouts birthed their own S'More Cookie so the name was already taken.

The Girl Scout version is molded in the shape of a ring. This super-easy no-bake cookie recipe is a series of layers. Pop the pan into the fridge when you're done and then slice them in 20-30 minutes (if you can wait that long.)

Prep time: 15-20 minutes
Bake time: 15-30minutes
Makes about 24-36 bars


Get the full recipe for No-Bake Samoa Cookies – and be sure to check out more easy no-bake cookie recipe ideas on our No-Bake Cookies Pinterest board.
---
Muffins, Bread, Desserts: Make It with Less Time, Less Mess
So be sure to check out The Prepared Pantry. It's a family-owned business that sells baking mixes, kitchen tools, baking ingredients, and gourmet foods. Their mixes come straight to you from their own production and packing facility in Rigby, ID. I love that!

Best of all, their prices are really, really affordable.

Plus, The Prepared Pantry is believed to be the largest seller of bread mixes on the internet. You'll believe it when you browse more than 100 Bread Mixes from $2.00. While you're there, be sure to check out their Weekly Specials to save even more (I saw one mix discounted 83%.) Great site. Have fun!
---
Cookie Baking Tip: Save Mess and Leftovers When Drizzling Chocolate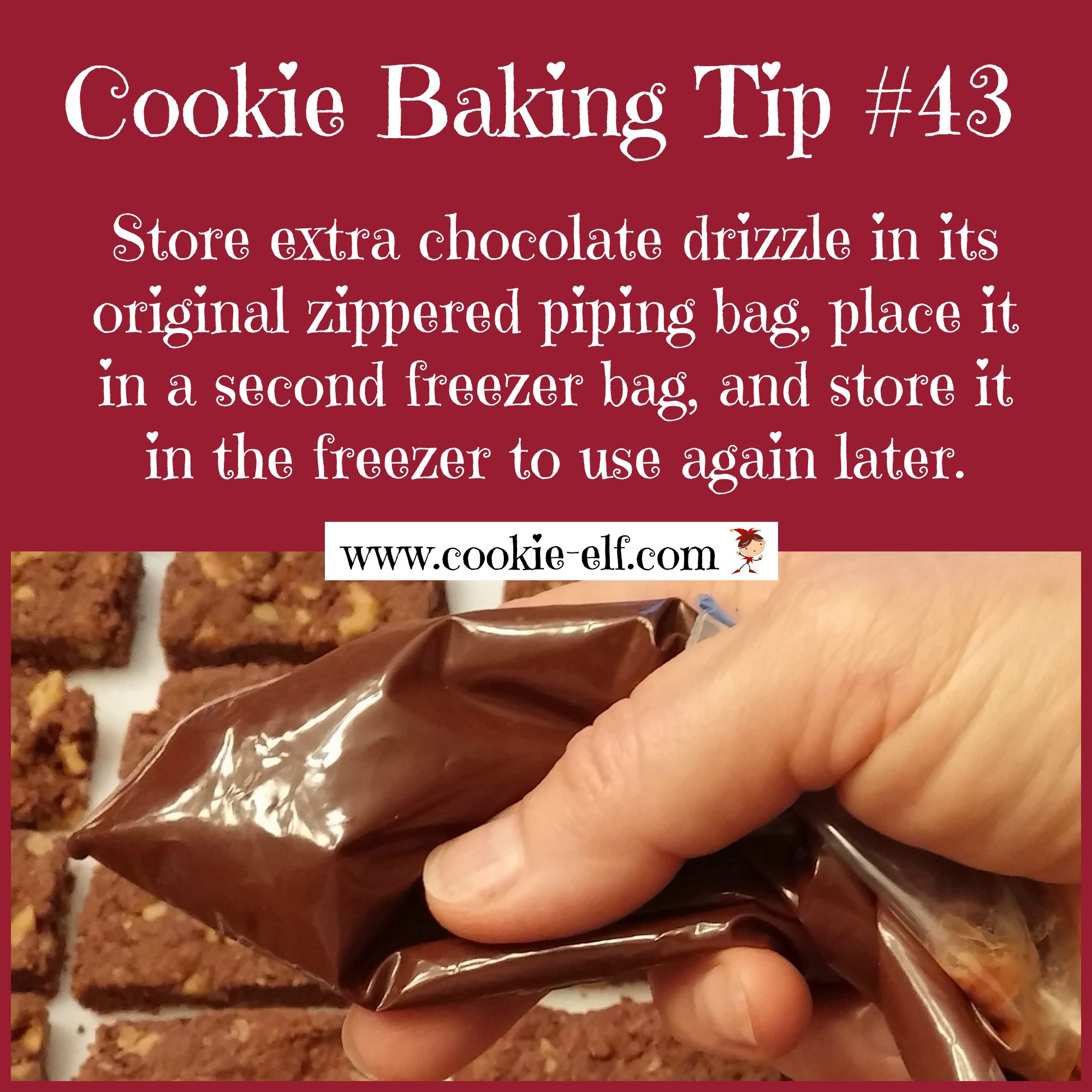 Image: The Cookie Elf
See more helpful cookie baking tips on The Elf's Baking Tips Pinterest Board .
---
Get the Scoop (for Both Cookies and Ice Cream)
More Easy No Bake Cookie Recipes

That's it for now. See you next time!

Happy baking,

Kathy, The Cookie Elf
www.cookie-elf.com