Dear Cookie Elf reader,



Welcome back to The Cookie Elf File … and to easy cookie recipes! About once a week, The Elf sends you cookie recipes, cookie trivia and simple baking tips to save you time, mess, and money so you can bake homemade cookies.

August is Brownies at Brunch Month. . If you're going to celebrate, do it with Chocolate Caramel Brownies. Enjoy!
---
Pan Up for the School Year
Get ready for full schedules and hectic days by having what you need in your kitchen. Browse best-selling and most popular baking pans for busy families like yours. Take a look.

---
The Cookie Elf is on Pinterest
Join us on Pinterest! Browse our 80+ boards (and growing) for cookie inspiration and simple baking tips, like chocolate chip cookies, no bake cookies, cookie gift baskets -- even special treats like gluten-free cookies! Happy pinning!
---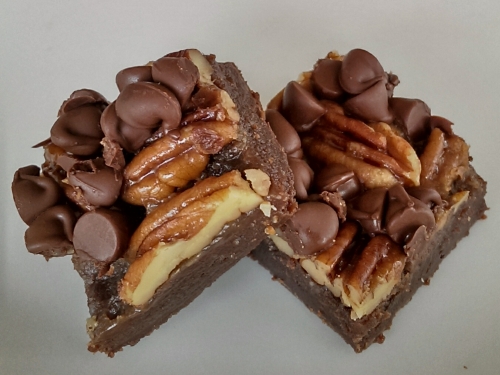 Image: The Cookie Elf

Chocolate Caramel Brownies are an ideal way to celebrate "Brownies at Brunch" Month in August. They are a rich, luscious concoction that will give you a sugar lift midmorning … and make you very popular with your co-workers.

The cookies are a version of Turtle Brownies or Turtle Cookies, so named after the original candy which featured a whole pecan, drizzled with caramel and then covered with light chocolate. The creased pecan back resembled a turtle shell, its grooves accented by the caramel and chocolate.

The brownies are layered with chocolate on the bottom, followed by pecans and caramel, and topped with one more coating of chocolate for good measure.

Prep time: 15 minutes
Bake time: 30 minutes, divided
Makes 24-36 bars


Get the full recipe for Chocolate Caramel Brownies. And be sure to get more brownie and blondie inspiration on our Brownies Pinterest Board.
---
Back to School for $1
Yep, it's that time of year.
But you can save money, time, and aggravation when you get all your back to school supplies for $1 each.
And if you shop online, you can avoid the crowds.
Browse Dollar Tree and get what you need. Everything's a $1 .
---
Cookie Baking Tip: How to Keep Brownies Moist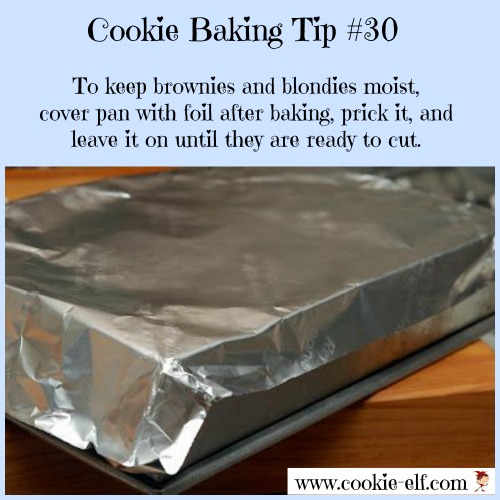 Image: The Cookie Elf
See more helpful cookie baking tips on The Elf's Baking Tips Pinterest Board .
---
Spread it and Scrape It
| | | |
| --- | --- | --- |
| Best-selling Wilton Spatula Set and other kitchen spatulas | Angled spatulas: a Cookie Elf favorite for scraping and spreading | Spread it:Spreading knifes of all sizes for fillings, more |
More Easy Brownies Recipes

That's it for now. See you next time!

Happy baking,

Kathy, The Cookie Elf
www.cookie-elf.com