Dear Cookie Elf reader,



Welcome back to The Cookie Elf File … and to easy cookie recipes! About once a week, The Elf sends you cookie recipes, cookie trivia and simple baking tips to save you time, mess, and money so you can bake homemade cookies.
---
Get Ready ...

---
You Need a Scoop to Make Drop Cookies!
Try it. You'll like it, we promise. See the best-selling and most popular cookie scoops and ice cream scoops used by bakers like you. And they make great stocking stuffers, too! Take a look.

---
The Cookie Elf is on Pinterest
Join us on Pinterest! Browse our 80+ boards (and growing) for cookie inspiration and simple baking tips, like chocolate chip cookies, no bake cookies, cookie gift baskets -- even special treats like gluten-free cookies! Happy pinning!
---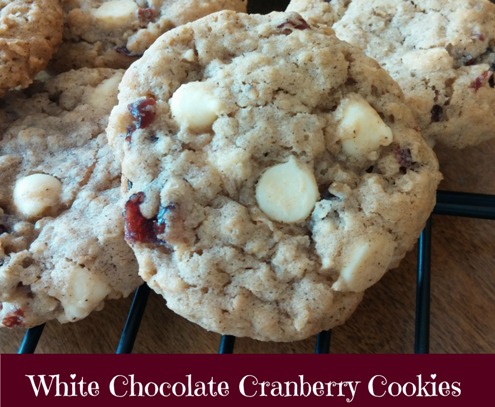 Image: The Cookie Elf

White Chocolate Chip Cranberry Cookies are a unique variation of a traditional chocolate chip oatmeal cookie recipe.

In this version white chocolate chips replace conventional semi-sweet chocolate chips. And where you might add raisins to the dough, you replace them with dried cranberries (Craisins®) instead. The result is a sweet drop cookie with bite – and a pretty one, at that. The white chips and red cranberries create a colorful contrast.These cookies are a fun and festive way to enjoy cranberries during the holiday season.

Prep time: 15 minutes
Bake time: 10-12 minutes
Makes about 4 dozen cookies

Get the full recipe for White Chocolate Chip Cranberry Cookies and see all kinds of chocolate chip cookie variations on The Elf's Chocolate Chip Cookies Pinterest Board.
---
Easy Dessert Recipes for the Holidays – Free
If you're looking for easy dessert recipes for the holidays, look no further! 20+ easy holiday recipes guaranteed to please – and the price is right, too: free with Kindle Unlimited or just $2.99.
Read about it here.

---
Cookie Baking Tip: Freeze Cranberries for Easy Chopping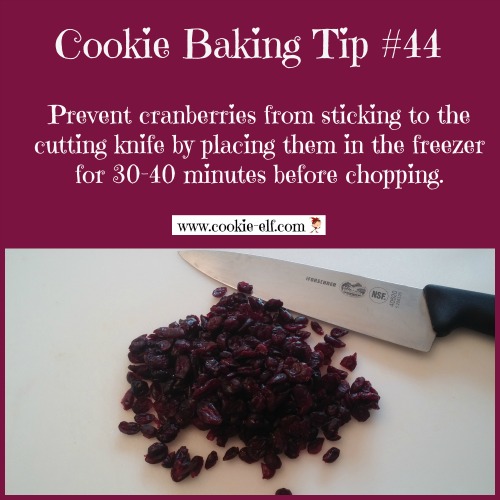 Image: The Cookie Elf
See more helpful cookie baking tips on The Elf's Baking Tips Pinterest Board .
---
Drop It! Use These to Make Drop Cookies Easier
More Easy Cookie Recipes with Cranberries

That's it for now. See you next time!

Happy baking,

Kathy, The Cookie Elf
www.cookie-elf.com