Dear Cookie Elf reader,



Welcome back to The Cookie Elf File! About once a week, The Elf sends you an easy cookie recipe and simple baking tips for baking homemade cookies.
---
Pan Up
You need them. But which ones should you get? See the best-selling and most popular baking pans used by families like yours. Take a look.

---
The Cookie Elf is on Pinterest
Join us on Pinterest! Browse our 80+ boards (and growing) for cookie inspiration and simple baking tips, like chocolate chip cookies, no bake cookies, cookie gift baskets -- even special treats like gluten-free cookies! Happy pinning!
---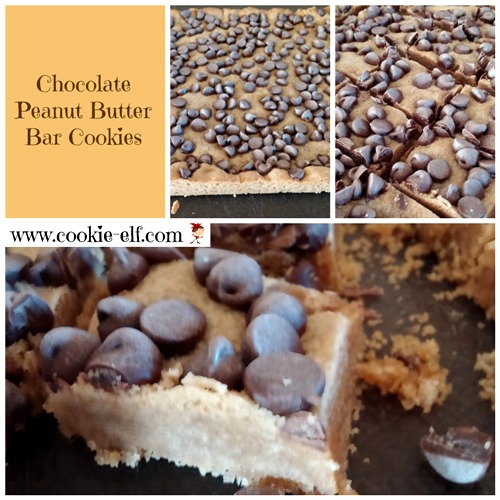 Image: The Cookie Elf

Chocolate Peanut Butter Bar Cookies combine two great flavors – milk chocolate and peanut butter – producing a taste and texture that is a clone of the ever-popular Reese's Peanut Butter Cups.

With just four ingredients in the recipe, what's not to love? And these bar cookies take less than 5 minutes to put together.

Plus, these no flour peanut butter cookies are a favorite among the gluten-free crowd.Prep time: 5 minutes
Bake time: 17-20 minutes
Makes about 60 bite-sized bars or 35 brownie-sized bars

Get the full recipe for Chocolate Peanut Butter Bar Cookies … and discover other gluten-free cookies on The Elf's Gluten-Free Cookies Board.
---
Easter Fun for Kids, Families, Schools, Churches, Neighbors
Easter is coming! How will you and your family celebrate?
The Un-Bunny Book answers that question! It's packed with fun activities, games, crafts, snacks, and stories that are based on Easter's true meaning.
Use it for kids ages 3-12 at home, school, church, in the community, or with your homeschool group -- or even to hold an outreach Easter event. The Un-Bunny Book shows kids and parents that Jesus' resurrection is something to celebrate. With reproducibles, too!
Learn more about The Un-Bunny Book here.
---
Cookie Baking Tip: Bar Cookies With Less Mess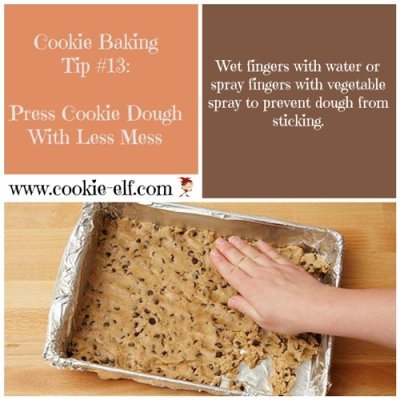 Image: The Cookie Elf

See more helpful cookie baking tips on The Elf's Baking Tips Pinterest Board .
---
Cut Bar Cookies Faster with Less Mess
More Easy Gluten-Free Cookie Recipes

That's it for now. See you next time!

Happy baking,

Kathy, The Cookie Elf
www.cookie-elf.com