Dear Cookie Elf reader,



Welcome back to The Cookie Elf File! About once a week, The Elf sends you an easy cookie recipe and simple baking tips for baking homemade cookies.
---
Melt It or Heat It Safely!
Browse safe (and fun) microwaveable cookware that's popular with families like yours. Take a look.

---
The Cookie Elf is on Pinterest
Join us on Pinterest! Browse our 80+ boards (and growing) for cookie inspiration and simple baking tips, like chocolate chip cookies, no bake cookies, cookie gift baskets -- even special treats like gluten-free cookies! Happy pinning!
---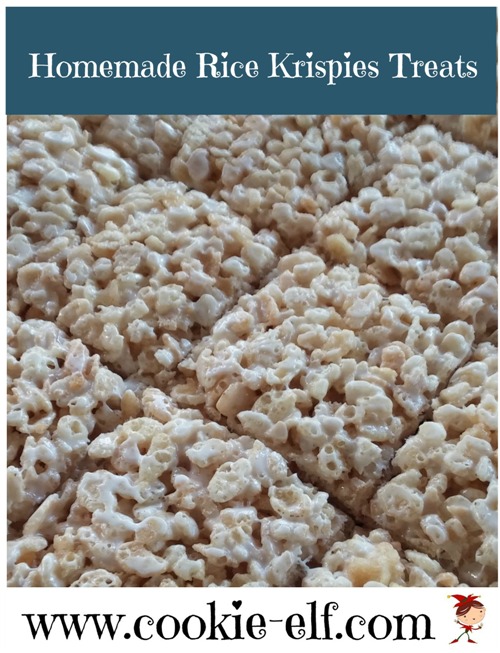 Image: The Cookie Elf

Homemade Rice Krispie Treats are the classic no-bake cookie recipe. The treats have become immensely popular not only because they are easy to make, but also because variations of the original recipe abound. And their ingredients are inexpensive.

This original version is simple to make at home. With just three ingredients – crisp rice cereal, marshmallows, and melted butter or margarine – it is an easy cookie recipe for kids to make. As an added bonus, the bars are a gluten-free cookie!

Make a batch or two. Wrap them and use them in lunches and for snacks and you'll save money!

Prep time: <10 minutes
Setting time: 15-30 minutes
Makes about 20-25 treats, depending upon how you cut them.

Get the full recipe for Homemade Rice Krispie Treats … and discover other Rice Krispie Treats variations on The Elf's Rice Krispie Treat Variations Board.
---
You Like Crafts and DIY. Do It Yourself for Free for 7 Days.
If you like to make or bake or build or create – or if you're into DIY – you'll want to spend some time wandering around Bluprint's site for ideas (formerly Craftsy.)

I confess that I nearly go on overload when I log on. It's so much fun! You can search all kinds of classes and downloadable tutorials. Just tune in on your own schedule and re-watch as often as you like. Plus find plenty of support along the way in chat forums with fellow enthusiasts in art, quilting, paper craft, embroidery, photography, gardening, spinning, woodworking, baking, cooking, jewelry making…

One thing I like to do is regularly check Bluprint's free classes listing. Have fun. I know I will.
---
Cookie Baking Trivia: The First Krispie Rice Treat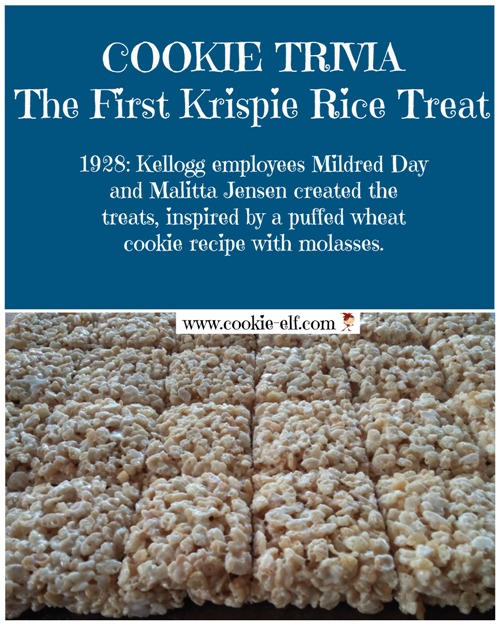 Image: The Cookie Elf

See more fun facts about making cookies and eating them on The Cookie Elf's Cookie Trivia page.
---
Melting Magic: Some of Our Faves
More Easy Rice Krispies Treats Variations

That's it for now. See you next time!

Happy baking,

Kathy, The Cookie Elf
www.cookie-elf.com