Dear Cookie Elf reader,



Welcome back to The Cookie Elf File … and to easy cookie recipes! About once a week, The Elf sends you cookie recipes, cookie trivia and simple baking tips to give you easy ways to bake homemade cookies.
---
Yes, Some Things in Life Are Still Free
Download best-selling free cookbooks on Kindle to save you time and money. Check it out!


---
The Cookie Elf is on Pinterest
Join us on Pinterest! Browse our 80+ boards (and growing) for cookie inspiration and simple baking tips, like chocolate chip cookies, no bake cookies, cookie gift baskets -- even special treats like gluten-free cookies! Happy pinning!
---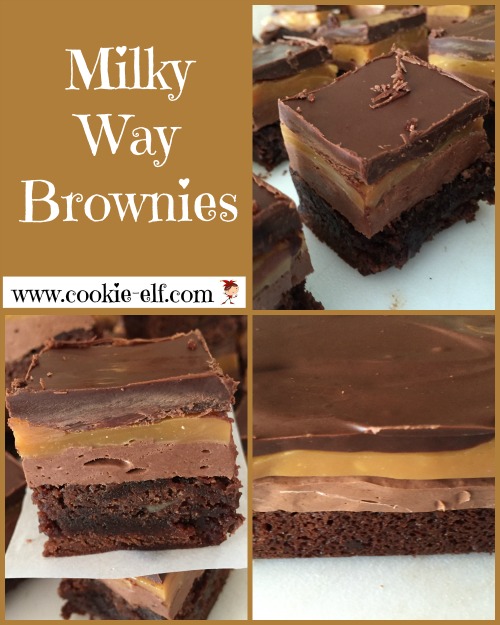 Image: The Cookie Elf

Chocolate lovers and brownie aficionados, check out these two versions of Milky Way Brownies – the simple layered version and the easy and quick version.

They're like eating a candy bar in bar cookie form. Can you say a-m-a-z-i-ng?

Milky Way candy bars debuted in 1923, the brainchild of Mars, Incorporated food company founder Franklin C. Mars. Contrary to urban legend, the candy bar was not named for the galaxy but rather the Milky Way milkshake, a popular malted chocolate dessert. By 1930, Milky Way was the #1 selling candy bar in the world. Today, the bars account for $100 million in sales.

The candy bar is made up of layers of chocolate nougat (a creamy, sweet filling) and caramel with a firm milk chocolate coating. European versions omit the caramel layer.The brownie recipe uses that same layered format. And it's uber-simply simple when you use a brownie mix.

Get the full recipe for layered Milky Way Brownies … and check out our Brownies Pinterest board for more easy brownie recipes.
---
Now: Great Clearance Deals for Kitchen and Home
Check out the Home & Kitchen Outlet at Gardener's Supply. This is the GS page where you can get fun and unique items for your home and garden at clearance prices. It's so much fun to browse around. And if you find something at a bargain price - well, go for it!

Plus, they donate 8% of their profits to home and garden improvement programs.

But apart from all that good stuff, their Home & Kitchen Outlet has great deals. Check them out here.
---
Cookie Baking Tip: Top Tip for Melting Caramels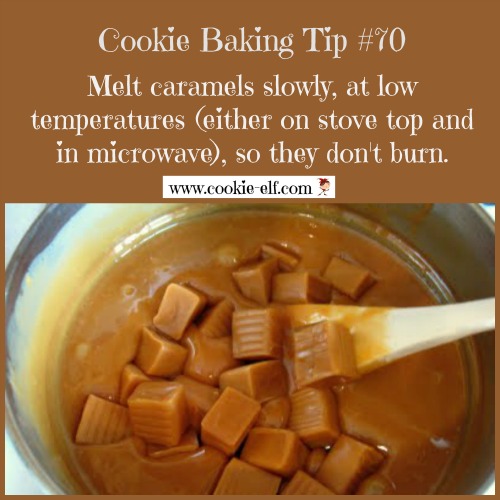 Image: The Cookie Elf
See more helpful cookie baking tips on The Elf's Baking Tips Pinterest Board .
---
Magical Melting Gear
More Easy Cookie Recipes with Milk Chocolate

That's it for now. See you next time!

Happy baking,

Kathy, The Cookie Elf
www.cookie-elf.com