Dear Cookie Elf reader,



Welcome back to The Cookie Elf File … and to easy cookie recipes! About once a week, The Elf sends you cookie recipes, cookie trivia and simple baking tips to give you easy ways to bake homemade cookies.
---
Save 50% at The Prepared Pantry
At The Cookie Elf, we're all about home baking and home cooking – with less time and mess.
So be sure to check out The Prepared Pantry. It's a family-owned business that sells baking mixes, kitchen tools, baking ingredients, and gourmet foods. Their mixes come straight to you from their own production and packing facility in Rigby, ID. I love that!
Best of all, their prices are really, really affordable.
Plus, The Prepared Pantry is the largest seller of bread mixes on the internet. You'll believe it when you browse more than 100 Bread Mixes from $2.00. While you're there, be sure to check out their Weekly Specials to save even more (I saw one mix discounted 83%.) Check out The Prepared Pantry and have fun browsing!
---
The Cookie Elf is on Pinterest
Join us on Pinterest! Browse our 80+ boards (and growing) for cookie inspiration and simple baking tips, like chocolate chip cookies, no bake cookies, cookie gift baskets -- even special treats like gluten-free cookies! Happy pinning!
---
Cookie Recipe of the Week: Almond Joy Fudge Brownies Recipe - Bar Cookie Version of the Candy Bar



Image: The Cookie Elf

This Almond Joy Fudge Brownies recipe mimics Almond Joy candy bars. If you like chocolate, coconut and almonds, you will be in heaven. D-E-L-I-S-H!

Almond Joy bars were developed by Peter Paul Candy Manufacturing Company in 1946 (now owned by Hershey) as a sibling to the Mounds bar, which was wildly popular with the U.S. military during World War II. If you know candy bars, you probably know the differences between the two. While Mounds is shredded coconut and dark chocolate, Almond Joy is made with milk chocolate-covered coconut topped with (of course) whole almonds.

But back to this recipe. It's got the Almond Joy's chocolate, coconut, and almonds all combined in an amazing bar cookie. Plus it's so easy to make, especially if you use a brownie mix for the bottom layer. The other layers are just measure, mix, spread (or drizzle), and bake.

Prep time: about 10 minutes
Baking time: 45 minutes, divided
Makes about 36-48 brownies, depending on how you cut them


Get the full Almond Joy Fudge Brownies recipe … and be sure to check out more Brownies Pinterest board.
---
FREE! Kids Learn to Bake in Online Course
From following a recipe to sharing the delicious results, instructor Paula Gray shows kids just how much fun baking can be as part of Bake for Good: Kids Learn to Bake program, a free course offered online in 4 easy sessions.

First, kids will learn how to prepare to bake and become familiar with the ingredients they'll use. Then, Paula discusses the importance of measuring carefully and correctly. Next, kids find out how to mix ingredients together and pick up special kneading tips for bread that rises perfectly. Finally, Paula demonstrates each step of turning dough into a classic loaf, a beautiful braid, scrumptious cinnamon rolls, popular dinner rolls, perfect pizza and more.

Plus, these recipes make enough for kids to enjoy and share – a perk that will make them popular with family and friends.Find out more and have fun!.

---
Cookie Baking Tip: What Eggs Do in Cookies and Brownies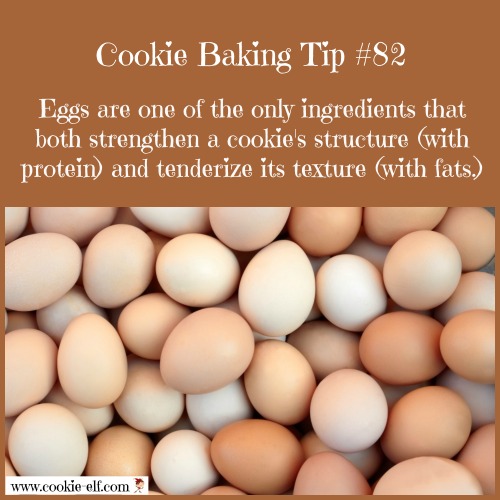 Image: The Cookie Elf
See more helpful cookie baking tips on The Elf's Baking Tips Pinterest Board .
---
Cut and Serve Brownies With Less Mess
More Easy Brownie Recipes

That's it for now. See you next time!

Happy baking,

Kathy, The Cookie Elf
www.cookie-elf.com