Dear Cookie Elf reader,



Welcome back to The Cookie Elf File … and to easy cookie recipes! About once a week, The Elf sends you cookie recipes, cookie trivia and simple baking tips to give you easy ways to bake homemade cookies.
---
Help Kids Learn to Cook This Summer – Online
With online learning all the rage, now you can help your kids learn just how much fun cooking can be as part of Happy Kids Cooking Healthy online course.
The course offers general cooking for children ages 7 to 12, from a health and vegetarian perspective. with cooking demos by Jordan Poch, a 12 year old who loves to share with other kids (as seen on TV). Kids learn to make healthy pizza, mac and cheese, waffles and more. Comes with printable lessons and answer key. Great for home schoolers! Check it out here.
Or try Cooking Class 101 with Children 101 that teaches kids the basics for maneuvering in the kitchen, from noodles to chicken tenders to fried rice.
---
The Cookie Elf is on Pinterest
Join us on Pinterest! Browse our 80+ boards (and growing) for cookie inspiration and simple baking tips, like chocolate chip cookies, no bake cookies, cookie gift baskets -- even special treats like gluten-free cookies! Happy pinning!
---
Cookie Recipe of the Week: 7 Layer Bar Cookies: No Mixing!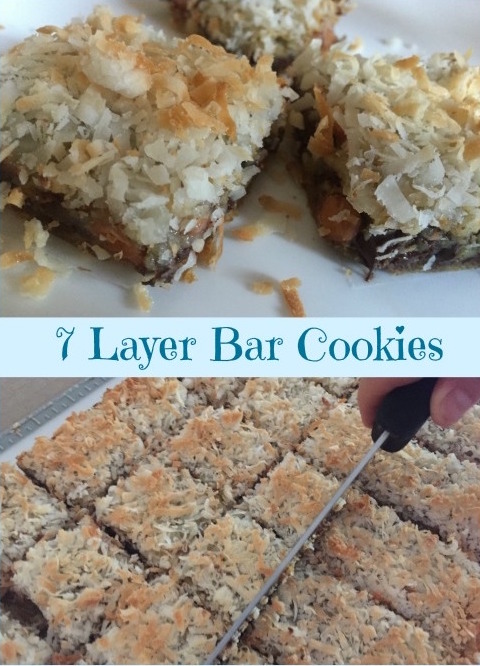 Image: The Cookie Elf

7 Layer Bar Cookies are an easy bar cookie recipe that has been around more than half a century.

I love this recipe!

There's no mixing. None! Each layer is pressed, sprinkled, or poured into the pan. That means it goes in the oven quickly and there's hardly any mess.

Plus, the bars are not fussy. They always look great and taste great.

It's THE original layer bar cookie recipe that has spawned all kinds of variations: Magic Bar Cookies (6 layers to be exact – just doubled the amount of semi-sweet chocolate chips) or Hello Dolly Bars (another 7 layer bar cookie, but with white chocolate chips replacing the butterscotch chips.)

Prep time: about 15 minutes
Bake time: 12-15 minutes
Makes 2-2 ½ dozen cookies

Get the full recipe for 7 Layer Bar Cookies … and check out all kinds of bar cookie recipes on our Bar Cookies Pinterest Board.
---
Save 50% at The Prepared Pantry
At The Cookie Elf, we're all about home baking and home cooking – with less time and mess.
So be sure to check out The Prepared Pantry. It's a family-owned business that sells baking mixes, kitchen tools, baking ingredients, and gourmet foods. Their mixes come straight to you from their own production and packing facility in Rigby, ID. I love that!
Best of all, their prices are really, really affordable.
Plus, The Prepared Pantry is the largest seller of bread mixes on the internet. You'll believe it when you browse more than 100 Bread Mixes from $2.00.
While you're there, be sure to check out their Weekly Specials to save even more (I saw one mix discounted 83%.) Check out The Prepared Pantry and have fun browsing!
---
Cookie Baking Tip: Assemble Layer Cookies In the Right Order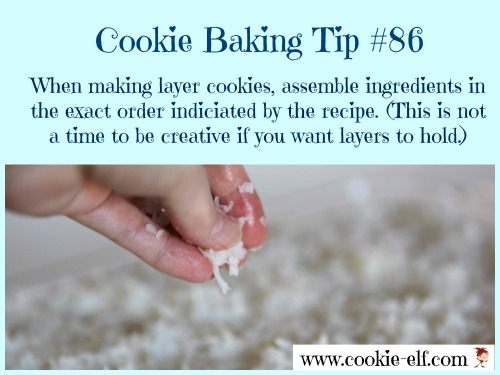 Image: The Cookie Elf
See more helpful cookie baking tips on The Elf's Baking Tips Pinterest Board .
---
Fun in the Kitchen and on the Grill
More Easy Layer Bar Cookie Recipes

That's it for now. See you next time!

Happy baking,

Kathy, The Cookie Elf
www.cookie-elf.com