Dear Cookie Elf reader,



Welcome back to The Cookie Elf File … and to easy cookie recipes! About once a week, The Elf sends you cookie recipes, cookie trivia and simple baking tips to give you easy ways to bake homemade cookies.
---
Now at Summer's End: Great Clearance Deals for Kitchen and Home
Check out the Home & Kitchen Outlet at Gardener's Supply. This is the GS page where you can get fun and unique items for your home and garden at clearance prices.

It's so much fun to browse around. And if you find something at a bargain price - well, go for it!

Plus, they donate 8% of their profits to home and garden improvement programs.

But apart from all that good stuff, their Home & Kitchen Outlet has great deals.
---
The Cookie Elf is on Pinterest
Join us on Pinterest! Browse our 80+ boards (and growing) for cookie inspiration and simple baking tips, like chocolate chip cookies, no bake cookies, cookie gift baskets -- even special treats like gluten-free cookies! Happy pinning!
---
Cookie Recipe of the Week: No-Bake Peanut Butter Chocolate Bars - Easy, No-Bake Bar Cookie That's Ready in 15 Minutes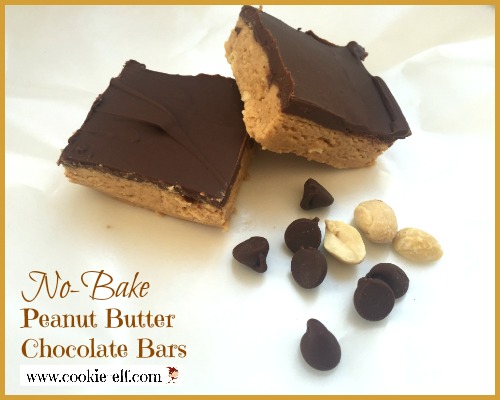 Image: The Cookie Elf

No-Bake Peanut Butter Chocolate Bar Cookies combine two great flavors – chocolate chips and peanut butter – in an A-M-A-Z-I-N-G taste that remind you of Reese's Peanut Butter Cups.

They're super easy, too, with just 6 ingredients.

And because they're bar cookies, they're ready in less than 15 minutes. You means you mix them together, slap on the melted chocolate layer, pop them into the fridge, and pull them out a few minutes later to cut.

Prep time: <15 minutes
Chill time: 15-30 minutes
Makes about 60 bite-sized bars


Get the full recipe for No-Bake Peanut Butter Chocolate Bar Cookies – and be sure to check out more ideas on our No-Bake Cookies Pinterest board.
---
Save 50% on Simple Gourmet Mixes from The Prepared Pantry
At The Cookie Elf, we're all about home baking and home cooking – with less time and mess. So be sure to check out The Prepared Pantry. It's a family-owned business that sells baking mixes, kitchen tools, baking ingredients, and gourmet foods. Their mixes come straight to you from their own production and packing facility in Rigby, ID. I love that!
Best of all, their prices are really, really affordable.
Plus, The Prepared Pantry is the largest seller of bread mixes on the internet. You'll believe it when you browse more than 100 Bread Mixes from $2.00. While you're there, be sure to check out their Weekly Specials to save even more (I saw one mix discounted 83%.) Check out The Prepared Pantry and have fun browsing!
---
Cookie Baking Tip: How to Spread Bar Cookie Base Evenly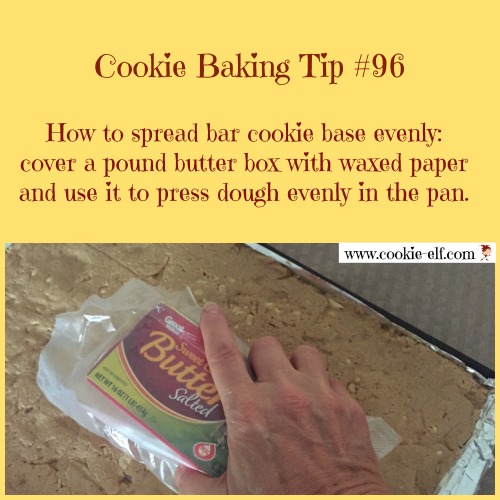 Image: The Cookie Elf
See more helpful cookie baking tips on The Elf's Baking Tips Pinterest Board .
---
Fun and Helpful Gear for Making No-Bake Cookies
More Easy No-Bake Cookie Recipes

That's it for now. See you next time!

Happy baking,

Kathy, The Cookie Elf
www.cookie-elf.com