Dear Cookie Elf reader,



Welcome back to The Cookie Elf File … and to easy cookie recipes! About once a week, The Elf sends you cookie recipes, cookie trivia and simple baking tips to make baking cookies easy and fun for your family.

Dads aren't hard to please; most of them like simple things. In just 10 minutes, you can make a batch of Easy Brownies for the dads in your life. Happy Father's Day!
---
Give Cookies and Brownies as Gifts
Simple to use, fill, and tie: gifting homemade treats is a pleasure! Browse and find cookie treat gift bags that are easy to use, stand up once filled, and look great. Take a look.

---
The Cookie Elf is on Pinterest
Join us on Pinterest! Browse our 80+ boards (and growing) for cookie inspiration and simple baking tips, like chocolate chip cookies, no bake cookies, cookie gift baskets -- even special treats like gluten-free cookies! Happy pinning!
---
Feature: Easy Brownies - Make Them in < 10 Minutes Without a Mix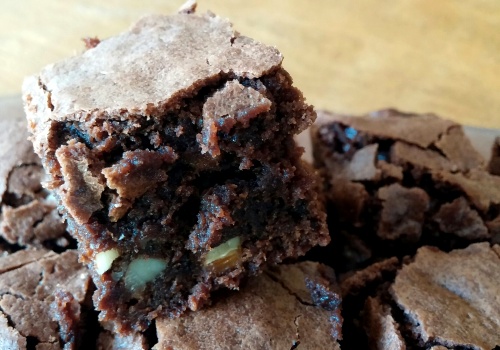 Image: Easy Brownies by The Cookie Elf

Easy Brownies: you would be hard-pressed to find a simpler recipe – even one from a brownie mix.

There are several reasons this recipe is so easy. There are just 5 ingredients (okay, 6 if you count the optional chopped nuts.)

Like a mix, this recipe uses just one bowl. You can mix the batter by hand – just grab a wooden spoon. Thanks to the melted butter, there's no need to measure oil and water, which can lead to a mess. The only measured ingredients are dry.

In less than ten minutes, these brownies will be in the oven.

Prep time: 10 minutes
Baking time: 25-30 minutes
Makes 25 squares


Get the full recipe for Easy Brownies and some special baking tips from The Elf. Plus be sure to check out The Elf's Brownies Pinterest board for more cookie inspiration and fun!
---
Cookie Baking Tip: A Plastic Knife Saves the Day!
Image: The Cookie Elf
See more helpful cookie baking tips on The Elf's Baking Tips Pinterest Board .
---
Give Cookies and Brownies in Style
More Easy Brownie Recipes to Make for Dads

That's it for now. See you next time!

Happy baking,

Kathy, The Cookie Elf
www.cookie-elf.com