Dear Cookie Elf reader,



Welcome back to The Cookie Elf File … and to easy cookie recipes! About once a week, The Elf sends you cookie recipes, cookie trivia and simple baking tips to make baking cookies easy and fun for your family.

Too hot? Not a problem. In and out of the oven with these SMores Rice Krispie Treats. Enjoy!
---
Pan Up for Summer and Beyond
Brownies, bar cookies, no-bake cookies, cakes, and cupcakes: yes, you'll be doing some baking this summer and beyond. See the best-selling and most popular baking pans used by families like yours. Take a look.

---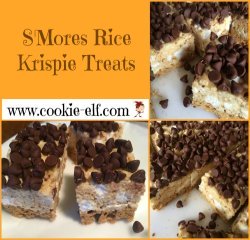 Image: The Cookie Elf

SMores Rice Krispie Treats: can there be a better bar cookie for summer?

Though not quite a sandwich like the traditional campfire treat, these bars mimic the original in layers – a base of graham cracker, followed by roasted (in this case melted) marshmallows, and topped with chocolate.

It's all pulled together in a Rice Krispie Treats variation that's easy for kids to make.

Plus, it's quick – out of the oven in the 5 minutes it takes for chocolate chips to soften and adhere into the cookie surface.

Prep time: less than 15 minutes
Bake time: 5 minutes
Set time: 15-30 minutes
Makes 20-24 bars

Get the full recipe for SMores Rice Krispie Treats … and check out more Rice Krispie Treats variations on our Rice Krispie Treats Pinterest Board.
---
Cookie Baking Tip: How to Get Chocolate Chips to Stick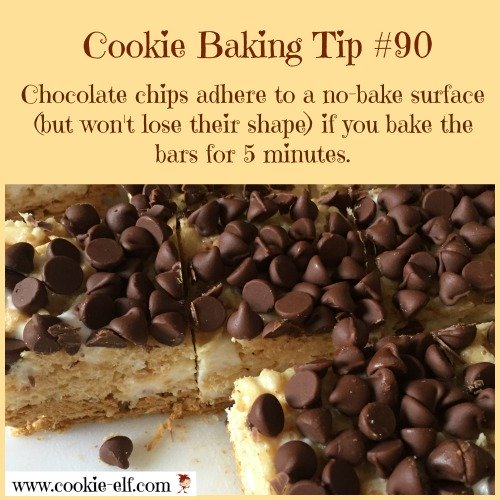 Image: The Cookie Elf
See more helpful cookie baking tips on The Elf's Baking Tips Pinterest Board .
---
Cut and Serve Bar Cookies Faster, Cleaner
More Easy S'Mores Cookie Variations

That's it for now. See you next time!

Happy baking,

Kathy, The Cookie Elf
www.cookie-elf.com