Dear Cookie Elf reader,



Welcome back to The Cookie Elf File … and to easy cookie recipes! Now as the holidays get close it's time for our traditional 12 Days of Easy Christmas Cookies recipes.

Everybody thinks you got them at a bakery but the surprise is they're easy! Make your own Vanilla Press Cookies - and you'll be the sensation of the season. Enjoy!
---

Your Cookies, Your Way
Browse an amazing selection of sprinkles, colored sugars, icing, and cookie decorations at best prices. Have fun!.

---
Feature: 12 Days of Easy Christmas Cookies #5 - Vanilla Press Cookies, Better Than a Bakery



Image: The Cookie Elf

Vanilla Press Cookies - sometimes called "spritz" – are made from a buttery dough pushed through a cookie press to form the cookies.

You can change the cookie press disks to produce different cookie shapes, depending on the season or occasion.

Yes, most cookie presses come with tree-shaped disks that are perfect for making Christmas trees. Add a drop or two or three of green food coloring and sprinkle the cookies with nonpareils or decos.

If you've never made press cookies before, try them. They're a lot easier to make than you may think when you use these tips. A cookie press (sometimes called a cookie gun) can be inexpensive and you'll use it for years.

Prep time: 20-30 minutes
Bake time: 6 minutes
Makes about 5-6 dozen cookies

Get the full recipe for Vanilla Press Cookies … and check out our Spritz Pinterest board for more easy cookie recipes you can make with a cookie press.
---
Cookie Baking Tip: Use Cool Baking Sheets with Cookie Press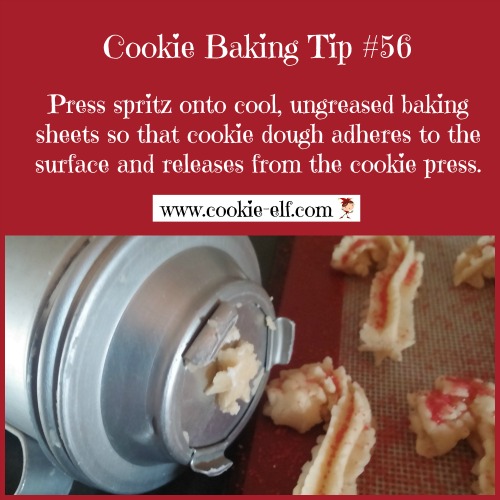 Image: The Cookie Elf
See more helpful cookie baking tips on The Elf's Baking Tips Pinterest Board .
---
Plan Now for a Meaningful Christmas
The Un-Santa Book is packed with ideas for celebrating the Christmas season in fun ways that teach about the gift of God's Son.
It's filled with fun, meaningful Christmas activities for your kids, homeschool group, class, or event - with reproducibles!
You can even use the book to host a complete festival or sponsor a unique holiday event or simply doing Christmas crafts with kids during this special time of year. Good gift idea, too! Learn more.
---
Start Up the Presses – Cookie Presses, That Is!
---
More Tips for Making Press Cookies

That's it for now. See you next time!

Happy baking,

Kathy, The Cookie Elf
www.cookie-elf.com