Dear Cookie Elf reader,



Welcome back to The Cookie Elf File! About once a week, The Elf sends you cookie recipes, cookie trivia and simple baking tips.

February is the month of love and National Cherry Month. Check out today's feature recipe – an easy way to bake for Valentine's Day!
---
What Kinds of Cookie Tips Do YOU Want Most?
Take The Cookie Elf's 1-question, 1-minute survey. You will help us give you the baking tips you want and need most. Take the survey here. Thank you!

---
Bake Some Love
Simple, easy, and sweet ways to bake your love for your Valentine … for a school party … or for your family. Get great ideas and products for baking some love! Browse ideas.

---
The Cookie Elf is on Pinterest!
Join us on Pinterest! Browse our 80+ boards (and growing) for cookie inspiration and simple baking tips, like chocolate chip cookies, no bake cookies, cookie gift baskets -- even special treats like gluten-free cookies! Happy pinning!
---
Feature: Chocolate Cherry Brownies : The Mix Makes It Easy to Bake for Your Valentine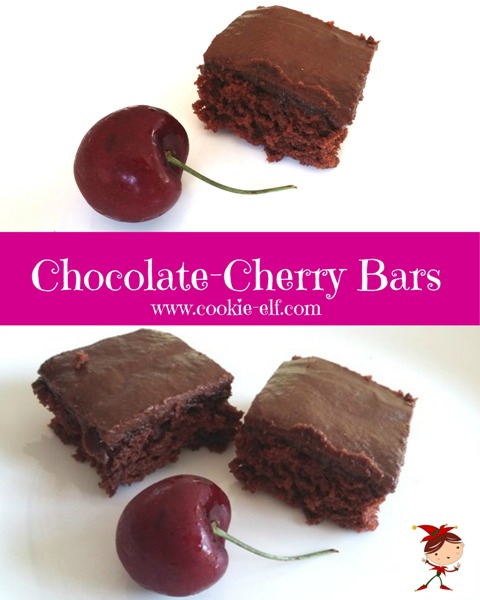 Image: The Cookie Elf

"They're such a surprise," said a friend when she tasted Chocolate Cherry Brownies . What looks like a frosted brownie explodes with flavor from the marriage of chocolate with cherry.

And like a brownie, the bars are a cross between a slice of cake and a cookie.

It's the cake mix base that makes putting together the recipe easy, saving you steps. Plus, you can mix the frosting in just a few minutes while the bars are baking and spread it on the bars as soon as they come out of the oven, further streamlining the recipe.

It's easy to see why these bars were a favorite recipe from the iconic Pillsbury Bake-Off® Contest #25 in 1974.

Prep time: 10-15 minutes
Bake time: 20-30 minutes
Cooling time: 90 minutes-2 hours
Makes 48 bars


Get the full recipe for Chocolate Cherry Brownies – and be sure to check out other Brownie Recipes on The Elf's Pinterest board.
---
Cookie Baking Tip: Cake Mixes for Cookies - Is It Cheating?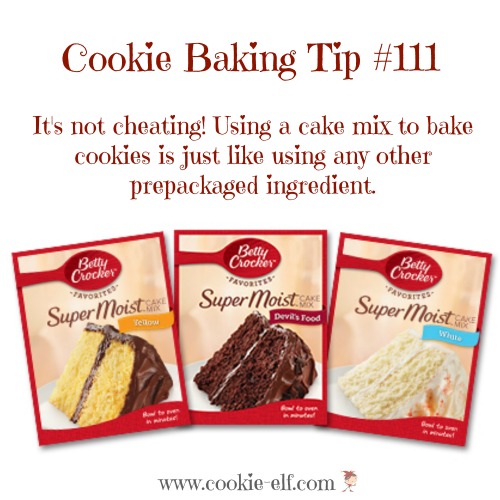 Image: The Cookie Elf
See more helpful cookie baking tips on The Elf's Baking Tips Pinterest Board .
---
Fun Ways to Bake With Love
More Easy Cookies from a Mix for Your Valentine

That's it for now. See you next time!
Happy baking,
Kathy, The Cookie Elf
www.cookie-elf.com