Dear Cookie Elf reader,



Welcome back to The Cookie Elf File! About once a week, The Elf will send you a favorite cookie recipe, complete with a list of ingredients and instructions. The Elf will also occasionally include baking tips from The File to help you bake and enjoy homemade cookies in your own kitchen.
The Cookie Elf is on Pinterest!
Join us on Pinterest! Browse our 60+ boards (and growing) for all kinds of cookie inspiration and practical information, like chocolate chip cookies, no bake cookies, cookie gift baskets -- even special treats like gluten-free cookies! Happy pinning!
Cookie Recipe of the Week:
Fran's Cherry Chocolate Chip Cookies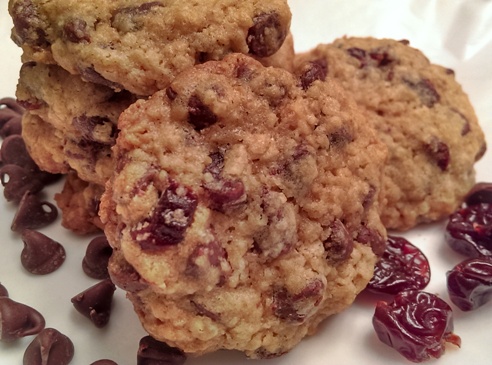 Image: The Cookie Elf

At the beginning of a new year, The Elf wants things to be easy and simple in the kitchen. You probably do, too.

Fran's Cherry Chocolate Chip Cookies, a variation of oatmeal chocolate chip cookies, taste like they are made from scratch. But the recipe starts with a simple mix (a cookie mix rather than a cake mix), one readily available in grocery stores – with just a couple of additions.

The recipe comes to The Elf from Fran Woodruff of Homewood, Alabama. Thank you, Fran!

Fran's Cherry Chocolate Chip Cookies

Prep time: 10 minutes
Bake time: 11-12 minutes
Makes about 2 ½ dozen cookies


Get the full recipe for Fran's Cherry Chocolate Chip Cookies …
More Cake Mix Cookie Recipes and Baking Tips
That's it for now. See you next time!
Happy baking,
The Cookie Elf
www.cookie-elf.com