Dear Cookie Elf reader,



Welcome back to The Cookie Elf File … and to easy cookie recipes! About once a week, The Elf sends you cookie recipes, cookie trivia and simple baking tips to save you time, mess, and money so you can bake homemade cookies.

Fun. No-Bake. Easy for kids. Pick three! Rainbow Rice Krispie Treats are a fun variation of the classic original. Enjoy!
---
Stovetop Savvy
Not only pots and pans but burner covers, gadgets - there's so much fun, affordable, dependable cookware to check out. Take a look.

---
The Cookie Elf is on Pinterest
Join us on Pinterest! Browse our 80+ boards (and growing) for cookie inspiration and simple baking tips, like chocolate chip cookies, no bake cookies, cookie gift baskets -- even special treats like gluten-free cookies! Happy pinning!
---



Image: The Cookie Elf

Rainbow Rice Krispie Treats are a variation of the classic original made with crisp rice cereal, marshmallows, melted butter ... ….and miniature chocolate chips, which give them their colorful name. I love this cookie recipe for kids because its so easy and fun. (As an added bonus, the bars are a gluten-free cookie!)

The original RK treats are said to have been invented by Kellogg Corporation co-workers Mildred Day and Malitta Jensen in 1939, possibly inspired by an earlier recipe that used puffed wheat and molasses.

In 1996, M & M Minis were introduced to the market. And oh, how we love them. And they're a perfect twist to this easy no-bake RKT variation.

Prep time: 10 minutes
Setting time: 15-30 minutes
Makes about 20-24 bars

Get the full recipe for Rainbow Rice Krispie Treats … and be sure to check out other Rice Krispie Treat Recipe variations on our Pinterest board.
---
All Udemy Online Courses $10.99 for New Students Through 2/28
You can learn how to start a dog walking business … get started with yoga … master bitcoin basics … and hundreds of other skills. And you can do it online with experts on Udemy - the leading online course provider. Now for a limited time, all 55,000 Udemy courses are on sale for new students.

If you've never tried an online course at Udemy, this is a great way to do so at very low cost.

New Student Discount
Start Date: 2/1/18
End Date: 2/28/18
All Courses on Udemy for $10.99 USD for New Students

Courses for kids: watercolors, computer programming, photography, more
Courses about saving money on travel, rent, more
Courses on cooking and baking: cooking for dads, baking bread, cooking outside, more
---
Cookie Baking Tip: Save Mess With Rice Krispie Treats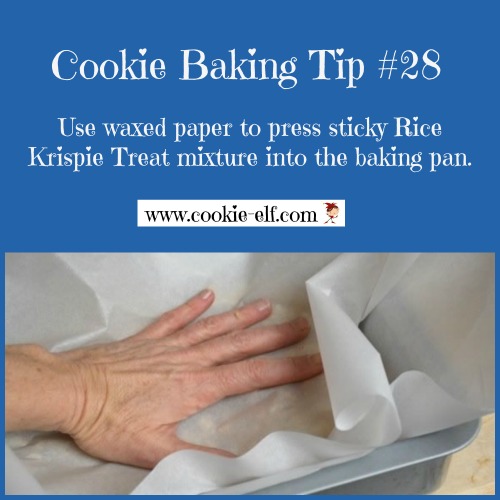 Image: The Cookie Elf
See more helpful cookie baking tips on The Elf's Baking Tips Pinterest Board .
---
Stovetop and Melting Magic: Some of Our Faves
More Easy Rice Krispie Treats Variations

That's it for now. See you next time!
Happy baking,
Kathy, The Cookie Elf
www.cookie-elf.com