Dear Cookie Elf reader,



Welcome back to The Cookie Elf File … and to easy cookie recipes! About once a week, The Elf sends you cookie recipes, cookie trivia and simple baking tips to save you time, mess, and money so you can bake homemade cookies.

Just in time for spring – this simple and easy Strawberry Cake Mix Cookies recipe with just 6 ingredients. Have fun!
---
Go Gadget, Go!
Spatulas, measuring gadgets, wooden spoons ... the right gear means MORE cookies for everybody in the family. Take a look at the most popular, helpful, and FUN baking gadgets these days.

---
The Cookie Elf is on Pinterest
Join us on Pinterest! Browse our 80+ boards (and growing) for cookie inspiration and simple baking tips, like chocolate chip cookies, no bake cookies, cookie gift baskets -- even special treats like gluten-free cookies! Happy pinning!
---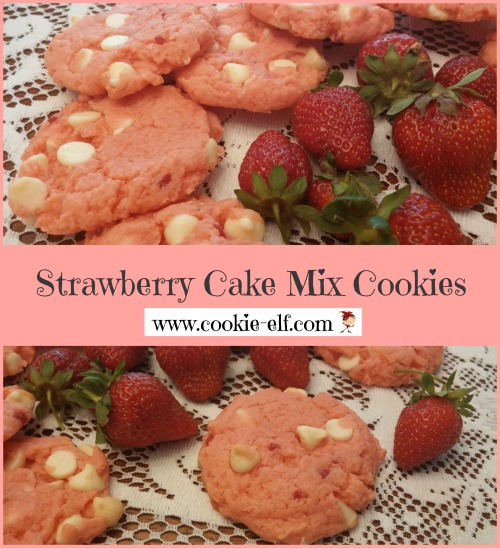 Image: The Cookie Elf
In a delicious twist, these Strawberry Cake Mix Cookies are a miniature version of the traditional English dessert strawberries and cream.
Cream cheese and white chocolate chips combine with the strawberry cake mix to produce a heavenly flavor. And the cookies are pretty, too.
Even better, the recipe calls for just 6 ingredients. In less than 10 minutes, the cookies are in the oven. Enjoy!
Prep time: 10 minutes
Bake time: 8-9 minutes
Makes about 2 ½ - 3 dozen cookies

Get the full recipe for Strawberry Cake Mix Cookies along with some cookie baking tips from The Elf. Plus be sure to check out The Elf's Cake Mix Cookies Pinterest board for more cookie recipe inspiration
---
Craftsy: DIY for Free for 7 Days
Craftsy: if you like to make or bake or build or create – or if you're into DIY – you'll want to spend some time wandering around Craftsy's site for ideas.

I confess that I nearly go on overload when I log on. It's so much fun! You can watch free Craftsy classes with lifetime access and downloadable tutorials. Just tune in on your own schedule and re-watch as often as you like. Plus find plenty of support along the way in chat forums with fellow enthusiasts in quilting, knitting, crochet, paper craft, embroidery, photography, gardening, spinning, woodworking, baking, cooking, jewelry making…

Yes, there's a tutorial for that, plus Craftsy pros also offer independent designer patterns and forums, too.

One thing I like to do is regularly check Craftsy's free classes and the daily clearance on supplies (it changes all the time as clearance items go out of stock and new supplies go on sale).

If you find you are addicted to Craftsy you can get a 7 day free trial of Craftsy Unlimited that gives you all kinds of extra goodies and discount benefits.

Have fun. I know I will.
---
Cookie Baking Tip: White Chocolate Chips versus Vanilla Chips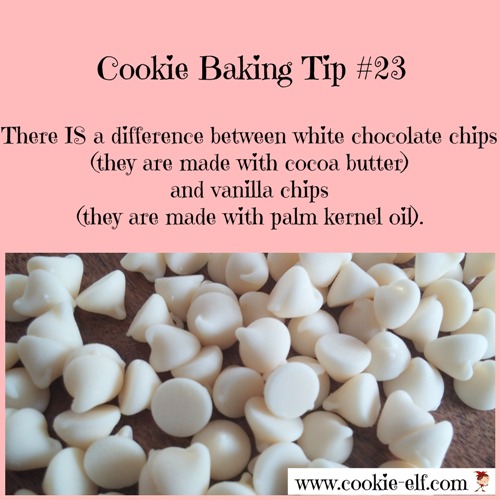 Image: The Cookie Elf
See more helpful cookie baking tips on The Elf's Baking Tips Pinterest Board .
---
Don't Just Scrape By!
More Easy Cookie Recipes for Spring

That's it for now. See you next time!

Happy baking,

Kathy, The Cookie Elf
www.cookie-elf.com